The Hymns of Mystical Byzantium in London and Leeds
13 - 15/09/2013 @ Saint Makarios the Great Parish, Leeds & Saint George's Church, London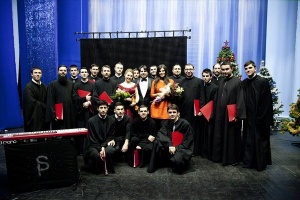 The Romanian Cultural Institute is proud to invite you on a musical journey to mysterious Byzantium in the company of acclaimed men's choir "Saint Demetrius". The Craiova-based group promises a rare musical experience featuring grave, ravishing tonalities of the Orthodox Church music, which is seldom performed in Britain and almost never in English.
Comprised of 10 members, "Saint Demetrius" choir was established more than 10 years ago in Craiova, south-west Romania, and has been instrumental in the revival of the old Orthodox musical traditions and the Byzantine chant in Romania.
The event is organised by the Romanian Orthodox Parishes in Leeds and London and the Romanian Orthodox Metropolis of Western and Southern Europe, with the support of the Romanian Embassy and the Romanian Cultural Institute.
When & Where:
Friday, 13 September 2013, 7:00 pm, Saint Makarios the Great Parish, Lawns Lane Farnley, Leeds, LS125ET
Sunday, 15 September 2013, after the Liturgy, Saint George's Church in London, 186a Fleet Street, London, EC4A 2HR
Free admission