Marcel Iureș Brings 'Absolute!' to London's West End
26/10/2014 @ Leicester Square Theatre London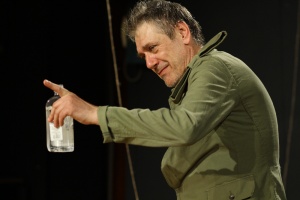 The internationally acclaimed actor shines in a modern, flamboyant take on classical works by Ion Creangă, the greatest Romanian storyteller.
Legendary theatre and film actor Marcel Iureş has gained international success starring alongside George Clooney, Nicole Kidman, Bruce Willis, Colin Farrell or Johnny Depp in productions such as The Peacemaker, Hart's War or the Pirates of the Caribbean.
'Absolute!' is inspired by the story of Ivan Turbincă, one of Ion Creangă's timeless characters. 'The Story of Ivan Turbincă' recounts the adventures of a destitute soldier who passes between the world of the living, Heaven and Hell, on a quest for immortality. In the beginning of the story, God rewards Ivan's charitable nature with a pouch with which he can trap all things in existence, and which is used by the soldier to subdue Satan and the multitude of devils, and eventually serves his purpose of cheating Death. In this show, Marcel Iureș meticulously creates an entire array of characters, brought to life with outstanding gusto and finesse.
A performance worth of the best stages in the world!
ABSOLUTE!
Directed by Alexandru Dabija.
Produced by Act Theatre.
Presented by the Romanian Cultural Institute in London.
In Romanian with English surtitles.
When: Sun 26 October, 7 pm
Where: Leicester Square Theatre, 6 Leicester Place, London WC2H 7BX
Tickets: Standard £17.00 or student £7.00 from www.leicestersquaretheatre.com