Making Memories Last: Romanian Olympic Legacy
12/09/2012 - 01/01/2013 @ Various Parks in London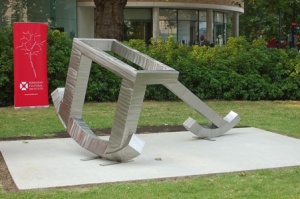 The Olympic Games are history, now the long-lasting legacy begins. To the joy of thousands of visitors, Romania's gifts to the people of London, unique open-air artworks created by talented artists for the Cultural Olympiad, have changed the landscape of the city forever.
Paul Neagu's first permanent sculpture in London, "Edgerunner", was unveiled in Owen's Fields, Islington, near to where the celebrated artist lived and worked for 30 years. Neagu was a major influence to Anish Kapoor, the mastermind of the ArcelorMittal Orbit, and to Tony Cragg, whose monumental sculptures dominate Exhibition Road landscape this autumn.
Two 6m tall organic hay and steel sculptures by Erno Bartha, "Bird" and "Skyscrapers", adorn the West Lake in Victoria Park, whilst the epic "Spiral of Time" makes London Pleasure Gardens an unmissable destination in Royal Docks. Bartha's original work invites visitors to recall the smell and texture of unspoiled nature in the midst of the urban frenzy.
"Cultural Stations", a three piece of urban furniture by Minodora Cerin and Mircea Margarit, await visitors in Trinity Square Gardens, near Tower of London. The Literary and the Science Stations celebrate British and Romanian achievements in the respective fields, and the Multicultural Station reveals the diversity of the communities that live in London.
Where: Owen's Fields, Islington; Trinity Square Gardens, Tower of London; West Lake, Victoria Park; London Pleasure Gardens, Royal Docks.
Free viewing.