'Măiastra - The Untold Story of the Romanian Blouse'
15/01 - 16/02/2015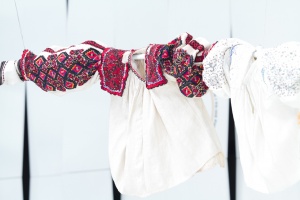 This year, we celebrate the National Culture Day together with Grigore Leșe, Romania's most beloved bard, who brought into light and works to keep alive some of the most impressive songs in our oldest musical repertoire. But the event also addresses another defining component of traditional life.
'Măiastra – The Untold Story of the Romanian Blouse', to be opened at RCI London on 15 January, is an exhibition that focuses on the Romanian blouse ('ia') as a symbol of Romanian identity and showcases a selection of old blouses presented as an art installation. Worn in celebrations, ceremonies or for everyday use, the Romanian blouse was considered a sacred garment which accompanied women throughout their life. Nowadays, 'ia' is still part of the collective memory and is now increasingly present in everyday fashion and patrimonial discourses.
The installation of blouses is accompanied by famous archive photographs of Queen Marie of Romania dressed in traditional Romanian costume, as well as a selection of objects and fashion items inspired by the Romanian blouse patterns and symbols, designed by contemporary artists representing brands like Ziurel, Una ca Luna, The Craft Lab, Lana, RONATIV, Mândra Chic and FurgaMurga.
The exhibition is a collaborative project of Galateca Gallery in Bucharest inspired by La Blouse Roumaine community, set up in partnership with the Romanian Cultural Institute and the Horniman Museum in London.
The attached pictures were taken by photographer Viorel Niculescu at the opening of 'Măiastra' in Dublin on 14 October 2014, as part of the Romanian Cultural Days organised by RCI London in the Irish capital.
When: Opening Thu 15 January, 7pm. The exhibition runs until 16 February, Mon-Fri, 10am - 5pm.
Where: The Romanian Cultural Institute, 1 Belgrave Square, London SW1X8PH
Admission is free, but places are limited. Please book your free ticket at Eventbrite.