"M House" @ Edinburgh Fringe
24 - 26/08/2011 @ Edinburgh Fringe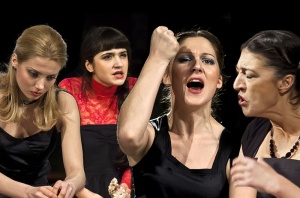 Romanian Cultural Institute in association with Coliseum Arts Centre present the Moldavian production "M House" in Edinburgh Fringe Festival. "M House" delivers a candid, powerful account of domestic violence through a story of raw disturbing realism. It is a genuine unconscious feminist cry against one of the most horrible crimes: the violence of the person who is supposed to love and protect you the most.
Four young and talented performers under the direction of Luminita Ticu – Snejana Puica, Mihaela Strambeanu, Ina Surdu and Irina Vacarciuc – recently awarded the top prize for interpretation at the Romanian Playwriting Festival in Timisoara, authentically voice the victims' stories.
A UK premiere, "M House" has journeyed from Chisinau, Republic of Moldova, through Romania and Russia. The production is part of a series of documentary plays, conceived by Coliseum Arts Centre, an institution which aims to respond to "the reality we live in today, with its grave and acute complexities" (Mihai Fusu, director).
M House has received the Gender Equality Prize from the Political Club of Women 50/50 in December 2010 and has generated discussions, conferences and televised debates with support from NGOs campaigning against domestic violence and human rights organizations. In Edinburgh, The Romanian Cultural Institute is collaborating with Scottish Women's Aid to help raise further awareness.
When: Wed 24 August – Fri 26 August, 2.20pm
Where: Venue No. 18: Sweet Grassmarket, City 1, Apex City Hotel, 61 Grassmarket, Edinburgh EH1 2JF
Tickets: £7, £5 concessions (half of all proceeds will be donated to the Scottish Women's Aid).
Box office: 0131243359 from 1 Aug
RELATED EVENT
Fri 26 August, 5.30pm
Scottish Women's Aid Head Office, 2nd Floor, 132 Rose Street, Edinburgh EH2 3JD
Free entry. Bookings at emma.sutherland@scottishwomensaid.org.uk or 0131 226 6606