Lunchtime Concert at St Martin-in-the-Fields: Adriana Feșteu and Edward Liddall
18/08/2014 @ St Martin-in-the-Fields, Trafalgar Square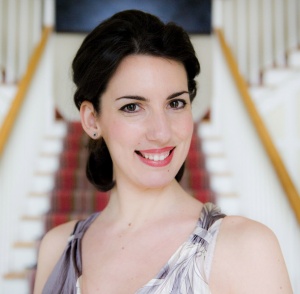 Our popular series at St Martin-in-the-Fields continues with a first-time performance of a mezzo-soprano. Highly appreciated both in Romania and abroad, Adriana Feșteu is considered by the Opera Magazine "to have an attractive smoky voice with a thrilling top". With a carefully chosen programme, Adriana Feșteu, accompanied by the pianist Edward Liddall, aims to reach the most sensitive chords, giving the audience the opportunity to enjoy among others, famous compositions of Mozart, Enescu and Schubert.
Programme:
Mozart - Laudamus te from 'C Minor Mass'
Sibelius - Svarta Rosor Op.36
Sibelius - Var det en drom Op.37
Sibelius - Flickan kom ifran sin alsklings mote Op.37
Bizet – 'Seguedille' from Carmen
Weill - Youkali: Tango Habanera
A. Pop - Va et viens
Enescu - Changeons Propos
Enescu - Du conflict en douleur
Donceanu - Pasii
Schubert – Vedi quanto adoro ancora ingrato D 510
Rossini - 'Una voce poco fa' from Il Barbiere di Sviglia
Adriana Feșteu graduated with a first-class honours degree at the "Gheorghe Dima" Music Academy in Cluj, Romania. In 2009 she completed her Masters with Distinction at the Royal Academy of Music Opera Course, where she studied with Lillian Watson and Audrey Hyland. Adriana made her operatic debut for the Romanian National Opera in Cluj in 2005 as Fidalma in Cimarosa's Il matrimonio segretto, and her next roles were Marcellina in Le nozze di Figaro, Madame Nolan in The Medium and Zerlina in Don Giovanni. Adriana regularly works with Garsington Opera, having covered the roles of Angelina in Cenerentola, Marcellina in Le Nozze di Figaro, Rustena in Vivaldi's La Verita in Cimento, Megacle in Vivaldi's L'Olimpiade and Calbo in the British premiere of Rossini's Maometto Secondo.
She also performs with the New London Consort and has sung the role of the Priestess in Purcell's King Arthur and Juno in Eccles' The Judgement of Paris, conducted by Philip Pickett. Future projects a series of lectures on the History of Opera at the Cadogan Hall with Opera Prelude as well as a season with Grange Park Opera. Adriana is also in her third year of PhD studies at the Royal Academy of Music, exploring the Zwischenfach voice.
Edward Liddall is currently studying at The Guildhall School of Music & Drama on a scholarship under the tutelage of Caroline Palmer. Edward has performed at venues across UK both, as a solo pianist and as a chamber musician. Also, he has extensive experience as a song accompanist – recent projects include playing for Iain Burnside's Poet's Echoes concert at Guildhall, and as a staff accompanist at The Abingdon Summer School for Solo Singers. He has a keen interest in new music and has recorded several works from the ABRSM volume, Spectrum for Piano Duet with Thalia Myers. Edward has had the opportunity to take part in master classes with well-known artists such as Ferenc Rados, Susan Tomes, Ronan O'Hora, Joan Havill, Levon Chilingirian, Della Jones and Ryland Davies.
When: Monday 18 August 2014, 1:00 pm
Where: St Martin-in-the-Fields, Trafalgar Square, London