Luiza Zan featuring Sorin Romanescu & Alex Man
27/09/2011 @ 606 Club, 90 Lots Road, Chelsea, London SW10 0QD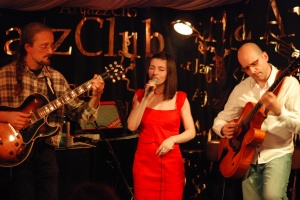 One of the most distinct voices of Romanian jazz, Luiza Zan opens our new jazz programme developed in partnership with 606 Club. She will be accompanied by renowned guitarists Sorin Romanescu and Alex Man. The concert is presented in one of the oldest and most prestigious London jazz venue, within the club's European Exchange initiative.
Hugely popular in Romania, Luiza Zan is renowned for her rich jazz vocals and lovely arrangements of jazz standards, as well as her own original songs which are a unique blend of jazz, latin, folk and blues influences. The first set of the evening will feature Luiza with her two guest guitarists Sorin Romanescu and Alex Man, with the second set from a full band featuring great bass player Laurence Cottle.
Luiza's two guitars project may be summarised as follows: two guitars and one voice that dance together the complex and complete music of three empathic souls, telling the audience about the different shapes of melody, of the refined harmonic ambient, about the variety of colours in the vocal palette and the subtlety of the language in a trio dialogue.(Luiza Zan)
This is a flavour of what you should expect from this performance:
When: Tue, 27 September 2011, 7:30pm
Where: 606 Club, 90 Lots Road, Chelsea, London SW10 0QD
Tickets: £10 at +44 (0)20 7352 5953 or at the door.