LUCIAN NAGY AT THE RIVER OF MUSIC FESTIVAL
22/07/2012 @ Somerset House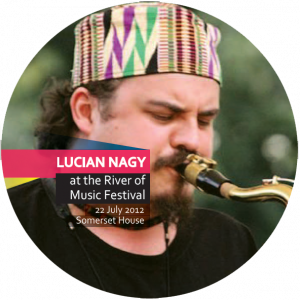 Virtuoso Lucian Nagy is Romania's choice in the Saxophone Massive section of the ethno and jazz music extravaganza River of Music that will take place on six stages along the Thames, representing the continents competing in the Olympic Games. This project is produced by Serious and is part of the London 2012 Festival.
Lucian Nagy (b. Arad) toured the United States, Germany, Austria, UK, Hungary with renowned musicians such as Paul De Castro, Henry "Skipper" Franklin, Peter Herbolzeimer, Poldi Big-Band, Sandy Patton. Nagy also collaborates with Gabriel Rosati, a member of the prestigious band formed around Carlos Santana in the 90's and with M5 Quintet, Orquesta Dengue (Los Angeles) and Eldad Tarmu Group (New York). Lucian Nagy studied with Bob Franceschini (Mike Stern band, New York).
When: 22 July, 8pm
Where: Somerset House
This project is produced by Serious, with Paul Hamlyn Foundation, as part of an ongoing participatory programme linked to BT River of Music – a spectacular weekend of free music from across the 205 Olympic and Paralympic nations, presented at iconic sites along the River Thames on 21 and 22 July 2012. BT River of Music is part of the London 2012 Festival. It is supported by National Lottery funds through the Olympic Lottery Distributor, Arts Council England and is produced by Serious, with additional funding support from Paul Hamlyn Foundation.