Lucian Dan Teodorovici @ Edinburgh Book Festival
18/08/2011 @ Edinburgh International Book Festival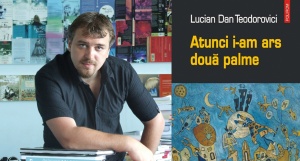 Lucian Dan Teodorovici will represent Romania at the Edinburgh International Book Festival 2011 (http://www.edbookfest.co.uk), within the section Best of European Fiction. The Romanian writer will be joined by the Irish writer Kevin Barry (author of the newly-published "City of Bohane") and by the award-winning Dutch novelist Manon Uphoff (author of "The Players") in a conversation chaired by Stuart Kelly.
A versatile writer, Teodorovici has made a name for himself as a journalist and screenwriter for one of the best Romania's political satire shows. His work as a novelist and short-story writer has been noticed by critics for its complex subjects, yet clear language, and he has been recognized as one of Romania's most promising novelists. Teodorovici's contribution to his generation's attempt to revitalize Romanian prose extended well beyond his personal literary work. He has initiated and conducted the collection of short stories and novels "Ego. Proză" at Polirom Publishing House, whose purpose is to promote new authors both in Romania and outside its borders.
"Lucian Dan Teodorovici excels in short prose, he perfectly hones the text, which resembles a miniature of consummate proportions. As for discernable models, the first that came to my mind was Daniil Kharms, with whom Teodorovici shares the same relaxed finesse of the absurd detail which explodes a concentrated text, written with humour and irony."
Cultural Observer
"Master of his means, uninfluenced by any fashion in particular, gifted with a sharp sense of the comic and absurd, with satirical nerve, Teodorovici has chosen his own path, one that is not at all easy. For it is not easy to be simple without being facile."
Adevărul literar şi artistic
Lucian Dan Teodorovici (b.1975) is the co-ordinator of Polirom's "Ego. Proză" series, and senior editor of the "Suplimentul de cultură" weekly magazine. Between 2002 and 2006, he was editor-in-chief at the Polirom Publishing House. He was a scriptwriter for the "Animat Planet Show", broadcast by the Antena 1 TV channel in Romania, and has written screenplays for the feature-length film adaptations of "Our Circus Presents:" and "I'm a Communist Biddy", as well as the short films "Chocolates, A Good Day" and "Goose Chase". Published volumes: "Shortly before the Extraterrestrials Descended Among Us" (1999); "The World Seen through a Hole the Width of a Spliff" (2000); "Our Circus Presents:" (2002), "Then I Clouted Him Twice" (2004), and "The Other Love Sories" (2009).
When: 18 August 2011, 2.30-3.30pm
Where: Peppers Theatre, Edinburgh International Book Festival