Lucian Ban and his fabulous octet invited to perform at London Jazz Festival
20/11/2011 @ Southbank Centre / Purcell Room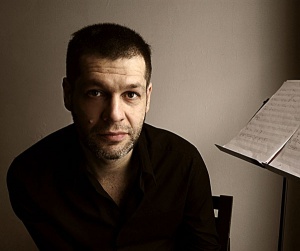 Acclaimed pianist Lucian Ban, accompanied by an exceptional group of musicians, will perform Enescu Re-Imagined at London Jazz Festival.
Conceived by Lucian Ban and John Hebert, the Enescu Re-Imagined project was inspired by the work of the great Romanian composer George Enescu. The project premiered in 2009 at the "George Enescu" International Festival in Bucharest. Since then, it has been presented in numerous concerts and venues, being considered one of the best shows in 2010.
With two nominations for the "Best European Jazz Musician", Ban will re-imagine Enescu's work bringing into the spotlight an A-list band that includes: Tony Malaby (tenor saxophone), Ralph Alessi (trumpet), Albrecht Maurer (violin), Mat Maneri (viola), Badal Roy (tabla, voice, percussion), Drew Gress (bass) and Mark Ferber (drums). Do not miss an uplifting mix of sounds from New York's downtown jazz scene with a twist of rhythms from Romania's folklore and from the Indian subcontinent!
"Trust us; this kind of night only happens once every three centuries". Stacey Anderson, Village Voice NY
After studying composition at Bucharest Music Academy, in 1995 Lucian Ban established a group named Jazz Unit, and released two albums through Green Records label in Romania. In 1999, he moved to New York where he studied at the New School University for two years. His American debut Somethin' Holy recorded in a duet with saxophone player Alex Harding brought him 4 stars from Allmusic. This success was followed by the critically praised quintet album "Premonition" (2003), "Tuba Project" (featuring Bob Stewart, 2006) and "Playground" (featuring Jorge Sylvester, 2006).
When: Sunday, 20 November 2011 – 7:45pm
Where: Southbank Centre / Purcell Room
Tickets: £20, £10 + booking online at http://ticketing.southbankcentre.co.uk/find/music/gigs-contemporary/tickets/lucian-ban-59442