Longing and Belonging: Pan-pipe Maestro Nicolae Voiculeţ in Eaton Square
29/11/2014 @ St Peter Eaton Square, 119 Eaton Square, London SW1W AL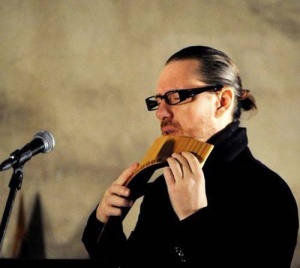 Following a series of 10 hugely successful concerts in Romania, which culminated with a musical extravaganza on top of the Carpathian Mountains, famous pan-pipe player, conductor and composer Nicolae Voiculeţ graces our National Day celebrations with an extraordinary display of virtuosity and inspiration. Accompanied by an ensemble of seasoned musicians and having British organist Robin Walker as special guest, Nicolae Voiculeţ will take the audience on a dramatic voyage through Romanian musical traditions, from folklore to classical music and modern scores.
Ambassador of Romanian Tourism, awarded the Romanian Cultural Merit and considered one of the best pan-pipe players in the world, Nicolae Voiculeţ has gained, in his own words, 'a doctoral thesis in love of his country', while working and living away from Romania. This concert, suggestively entitled 'Romania from My Heart', is a distillation of many years of experimentation with various Romanian musical traditions in the attempt to create the original musical expression of an identity statement.
The concert will take place at St Peter's Eaton Square, one of Belgravia's landmarks, and is organised in partnership with the Romanian Embassy in London, under the patronage of HE Dr Ion Jinga, the Romanian Ambassador to the Court of St James's.
When: Sat 29 November, 7pm
Where: St Peter's Eaton Square, 119 Eaton Square, London SW1W 9AL
The entrance is free, but it is required to book your free ticket on Eventbrite HERE
Unreserved seating