London Philharmonic Orchestra: Jurowski conducts Enescu
10/12/2020 - 31/01/2021 @ online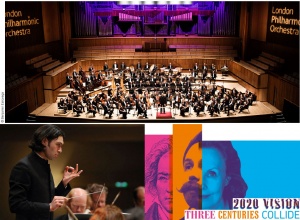 The Romanian Cultural Institute in London continues its partnership with the London Philharmonic Orchestra by supporting the concert "2018: Behind Night and Clouds", part of 2020 Vision series, featuring George Enescu's Decet Op. 14 and Chamber Symphony.
Composer, conductor, violinist without equal: to those who knew him, George Enescu was the kind of artist who made the whole world seem to burn brighter. Inspired by Bach, by Stravinsky, by Parisian elegance and the wild melodies of his native Romania, Enescu's music is like no-one else's – and it's a special passion for Vladimir Jurowski. Tonight he conducts two extraordinary miniature masterpieces, both too rarely heard in the West. First, though, enjoy the Bach suite whose blazing majesty inspired Enescu, and the brand new Third Piano Concerto by Elena Kats-Chernin, whose music is proof that living composers really can write tunes. (www.lpo.org.uk)
The concert has been recorded in early December at Southbank Centre's Royal Festival Hall, with legendary conductor Vladimir Jurowski and soloist Alexandra Silocea (piano).
The event is the latest in a series of partnerships developed by the Romanian Cultural Institute with major British musical institutions in promoting George Enescu's works in the UK.
Programme:
J S BACH Orchestral Suite No. 1
ELENA KATS-CHERNIN Piano Concerto No. 3 (European premiere)
ENESCU Decet, Op. 14
ENESCU Chamber Symphony
Click here to read the concert's programme notes.

Vladimir Jurowski conductor
Alexandra Silocea piano
London Philharmonic Orchestra
The London Philharmonic Orchestra is one of the world's finest symphony orchestras, balancing a long and distinguished history with a reputation as one of the UK's most adventurous and forward-looking orchestras.
The Orchestra was founded by Sir Thomas Beecham in 1932, and since then has been headed by many of the great names in the conducting world, including Sir Adrian Boult, Bernard Haitink, Sir Georg Solti, Klaus Tennstedt and Kurt Masur. The Orchestra's current Principal Conductor is Vladimir Jurowski, appointed in 2007.
When & Where: broadcast online. The concert will premiere at 8pm on Thursday 10 December 2020 and will be available free of charge for an initial 7-day period.