London Philharmonic Orchestra Chamber Ensemble to Open the 2015 'Enescu Concerts' Series
05/02/2015 @ Romanian Cultural Institute, 1 Belgrave Square, SW1X8PH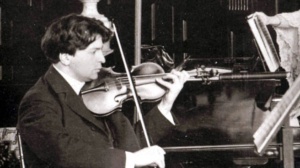 As part of the 'Enescu Month' in London, the 2014/15 season of the 'Enescu Concerts' Series resumes with the Chamber Ensemble of the London Philharmonic Orchestra performing George Enescu's superb 'String Octet', as a prelude to the great premiere of the 3rd George Enescu Symphony at the Royal Festival Hall on the 7th of February.
The event will be opened by maestro Remus Azoiței with a tribute to Enescu, the violonist: 'Chaconne' for Solo Violin by Bach, the Romanian composer's favourite musical piece.
The London Philharmonic Orchestra Chamber Ensemble is comprised of:
VIOLINS
Vesselin Gellev
Jeongmin Kim
Ji-Hyun Lee
Lorenzo Gentili-Tedeschi

VIOLAS
Cyrille Mercier
Robert Duncan

CELLI
Kristina Blaumane
Steffan Morris

The London Philharmonic Orchestra is one of the world's finest symphony orchestras, balancing a long and distinguished history with a reputation as one of the UK's most adventurous and forward-looking orchestras. The Orchestra was founded by Sir Thomas Beecham in 1932, and since then has been headed by many of the great names in the conducting world. The Orchestra's current Principal Conductor is Vladimir Jurowski, appointed in 2007. One of today's most sought-after and dynamic conductors, acclaimed worldwide for his incisive musicianship and adventurous artistic commitment, Vladimir Jurowski is also a regular guest with many of the world's leading orchestras in both Europe and North America.
Renowned violinist Remus Azoiței has been a featured soloist of prestigious European ensembles including the Orchestre Philharmonique de Radio France, Orchestre National de Belgique and Deutschekammer Orchester. Described in The Strad as 'an uninhibited virtuoso, with soul and fabulous technique', he has performed on prominent international stages including Carnegie Hall and Alice Tully Hall of Lincoln Centre in New York, Concertgebouw Amsterdam, and Wigmore Hall in London. Azoiței is a violin professor at the Royal Academy of Music in London and the Artistic Director of the Enescu Society in Great Britain.
When: 5 February, 8pm
Where: Romanian Cultural Institute in London, 1 Belgrave Square, SW1X 8PH
The concert is fully booked.
Photo credit: Cristian Alexa