'Living the Dream': The Borderless Mind in Search of Freedom
28/08/2019 @ The Other Palace, 12 Palace Street London, SW1E 5JA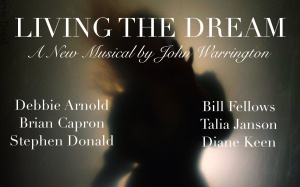 We are proud to support the London premiere of 'Living the Dream', a new musical by former journalist and TV presenter John Warrington, inspired by the search for freedom during communist Romania. A rehearsed reading of this new production based on a true story will be given at The Other Palace, one of the capital's most progressive musical theatre spaces.
In 1994, the famous footballer George Best received a letter from a former Romanian political prisoner. The letter stated that he and John Lennon had given hope to many prisoners because they were the essence of the word "freedom".
Moving on to the present day, Ana is on her death bed. Struggling to pass peacefully, the mystery surrounding the murder of her parents remains unanswered. In a morphine induced coma, the spirits of George Best and John Lennon arrive to help her discover the truth.

Living the Dream
Writer: John Warrington
Cast: Debbie Arnold, Brian Capron, Stephen Donald, Bill Fellows and Diane Keen
The show is performed in English and runs for approximately 90 minutes.


When: Wednesday 28 August 2019, 8pm
Where: The Other Palace, 12 Palace Street London, SW1E 5JA. Tube station: Victoria.
Tickets: £8.50. Please book online at https://bit.ly/2HdPAJD