Alexandrina and the Miracles of Everyday Life
18/04/2012 @ 1 Belgrave Square, SW1X 8PH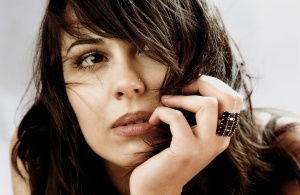 Silky-voiced Alexandrina, the elusive diva of arthouse pop, premiers in London in a rare performance on the occasion of Romania's presence at the London Book Fair. If you are tired of browsing books or listening to readings, join us for the concert of multi-talented Alexandrina, poet, painter and singer-songwriter.
Alexandrina will grace the Institute's stage with her best tracks from the album entitled Clay Man. Born in a family of artists in Chişinău, Moldova, Alexandrina Hristov is a complex artist being altogether musician, painter and poet. Her music is unique due to a combination of jazz, soul, acoustical pop and contemporarily rock to which she adds some innovative elements.
Cristian Luchian provides a counter-point of moving lights and shapes to Alexandrina's athmospheric scores.
Cristian Luchian has studied theatre directing at Faculty of Theatre and Television, Babes-Bolyai University in Cluj.
In the last ten years he has been working as visual effects designer for various plays. From 2006 he has also been the art director of the Underground Festival in Arad.
When: 18 April, 6.30-9.30pm.
Where: Romanian Cultural Institute London
Admission is free but seats are limited. Early booking is well recommended.
Please reserve your seats at T: 020 7752 0134, E: office@icr-london.co.uk.
Latecomers will be able to go to their seats in the interval.