Literatura cucerește străzile din Dublin
07/09/2017 @ Dublin Writers' Museum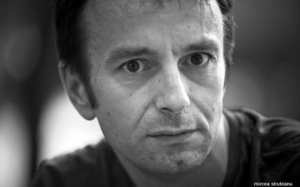 Romania is represented at a popular EUNIC event, which fills the streets of Dublin with some of the best stories of contemporary European prose, by T.O. Bobe's "The Most Beautiful Woman in the World". The readings will take place on 7 September at Dublin Writers' Museum and are supported by the Romanian Cultural Institute and the Embassy of Romania in Dublin.
Crossing political and literary borders – Words on the Street will take the audience on a journey across the cultural landscape in locations around the Parnell Square Cultural Quarter in Dublin.
Parnell Square is the second oldest of Dublin's squares, after St. Stephen's Green. It was built in 1766 as Mosse's Gardens, before being named Rutland Square in 1784, and finally Parnell Square in 1934.
Romania: "The Most Beautiful Woman in the World" by T.O. Bobe.
Translated by Alistair Blyth
T. O. Bobe (b. 1969) made his debut with a poem included in the anthology Family Portrait (1995). Published work includes The Loop (1999), Father Christmas's Gift (2003), How I Spent My Summer Holiday (2004), The Centrifuge (2005) and The Female Contortionist (2011). In 2001 he was awarded the Trans Europe Script Prize for the screenplays Getting Together and Morgan ReCollection, which he wrote with Ana Valentina Florescu.
Read by Rick O'Shea at Dublin Writers' Museum.
Rick O'Shea has been a radio presenter with RTE since 2001. He curates literary events and festivals and is also one of Ireland's most prominent hosts of public author interviews and panels with recent guests including Jessie Burton, Alan Cumming, Booker Prize winner Paul Beatty, Hannah Kent, Eoin Colfer, Liz Nugent, Michael Chabon, Tracy Chevalier, Donal Ryan and Graham Norton. He also runs The Rick O'Shea Book Club – Ireland's largest book club.
When & Where: 7 September 2017, Dublin Writers Museum (18 Parnell Square) @ 19.00, 20.00 & 21.00. Free entry.