Literary debate on the commemoration of the Holocaust in Romania
15/03/2022 @ Online debate - website www.icr-london.co.uk and social media ICR London( FB and Youtube)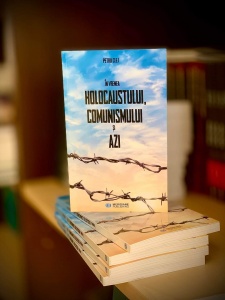 The event marks the publication of the volume "Seven love stories during the Holocaust, communism and today" by Petru Clej. ICR London presents a discussion in English between writer Petru Clej and BBC journalist Dorian Galbinski.
A critical analysis of the text, as well as of the positioning of Petru Clej's work in Romanian literature. The book "Seven Love Stories during the Holocaust, Communism, and Today," brings to readers, seven stories abounding with historically relevant information.
Whether we are talking about the Holocaust, the communist dictatorship or the present day, the stories that are built around the seven couples with impossible feelings (due to differences of religion, ethnicity or times of persecution), however, have a happy ending. After the fall of communism in Romania, the topic of the Holocaust and anti-Semitism were studied in depth by journalist Petru Clej.
The author was the editor and correspondent of BBC and Radio France Internationale, and is currently a contributor to the G4 Media group.
The author's favorite subjects are political current affairs, the history of Romania in the last century, the fight against anti-Semitism and… rugby. His style is combative, his attitudes are clear and unequivocal. Petru Clej is currently a translator for the London Metropolitan Police.
Were: Online debate - website www.icr-london.co.uk and social media ICR London( FB and Youtube)
When: 15 March 2022, 7pm