LIONEL SHRIVER meets MARINA CONSTANTINESCU
05/11/2021 @ Romanian Cultural Institute London, 1 Belgrave Square, SW1X 8PH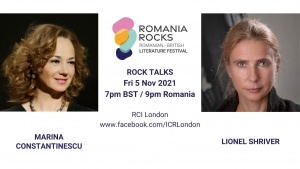 LIONEL SHRIVER meets MARINA CONSTANTINESCU
The best-selling author of We Need to Talk About Kevin talks to Romanian journalist and theatre critic. Hosted by Georgina Godwin.
Lionel Shriver is an American novelist, short story writer and journalist who has lived much of her adult life in the UK. She is an outstanding, prolific, popular and provocative writer, author of fifteen novels, including the National Book Award finalist So Much for That, the New York Times bestseller The Post-Birthday World, and the international bestseller We Need to Talk About Kevin (2003). Her journalism has appeared in the Guardian, New York Times, the Wall Street Journal and many other publications. She is a columnist for The Spectator magazine. Her latest 2021 novel is entitled Should We Stay or Should We Go?
https://en.wikipedia.org/wiki/Lionel_Shriver
https://www.spectator.co.uk/writer/lionel-shriver
https://monocle.com/radio/shows/meet-the-writers/292/
https://www.theguardian.com/profile/lionelshriver
Marina Constantinescu is a renowned Romanian cultural journalist, TV presents and producer and theatre critic. She has graduated from the Faculty of Philology of the University of Bucharest. She has published the volumes: Danaids - the history of a show and Once Upon a Time in Romania and she is a founding member of the first independent theater in Romania, as well as a founding member of the Sibiu International Theater Festival and artistic director of FNT. For 4 years, she has been a visiting professor at the Theater Academy of Limoges, teaching two courses. Her career in television started in 1992 and since 2001 she is the producer and presenter of the famous cultural show Nocturne. She has published numerous articles in specialized magazines about the theatrical phenomenon and its complexity in Central and Eastern Europe. She won several awards for her journalism: UNITER Awards: The UNITER President Special Award, UNITER Awards: The British Council Award.
Georgina Godwin is an independent broadcast journalist and presenter now living in London. Born and raised in Zimbabwe and known as an Africa specialist, she started her broadcasting and journalism career in Zimbabwe. A regular chair of literary events in the UK and round the world, she is Books Editor for Monocle 24 and presenter of Moncole Radio's in-depth interview show "Meet the Writers". She's also a Trustee of English PEN.
https://www.comptonmanagement.com/?p=387
https://uk.linkedin.com/in/georginagodwin
When: Friday, 5 November 2021, 19.00
Where: Romanian Cultural Institute in London, 1 Belgrave Square, SW1X8PH
Entrance is free but we kindly request you to book your ticket on EVENTBRITE.
Kindly book only if you are certain to attend and release the seats.
Please note that seating is unreserved.
*Face coverings highly recommended.