Life Histories of Romania's Looked-After Children: Photo exhibition by Elisabeth Blanchet and Discussion between researchers Mariela Neagu and Luciana Jinga
12/05/2021 @ online | Website, Facebook page and YouTube channel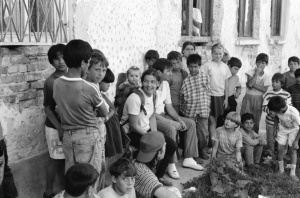 RCI London is launching Today Consequential, a series of talks and events on relevant contemporary topics intersecting several fields of studies: philosophy, sociology, history, political sciences and gender studies among others, setting up a virtual hub for academics, researchers and public intellectuals.
The first event revisits the narrative of Romanian children in care through the exhibition of Elisabeth Blanchet and a discussion between two distinguished Romanian researchers: Mariela Neagu and Luciana Jinga.
In a film specially recorded for RCI London, photographer Elisabeth Blanchet reveals the stories of the children from Popricani orphanage (Iași, northeastern Romania) where she volunteered back in the 90s. Since then, she returned several times to Romania to document the children as they grew up; her findings are part of her impressive project: Ceausescu' orphans, 30 years later.
The photo exhibition will be followed by a discussion between two researchers with significant contributions to the field, Mariela Neagu and Luciana Jinga, their dialogue shading a different light on the Romanian children in care and the protection system - not only a subject of several international research studies, but also an intensely covered topic by Western media. Their interventions challenge stereotypes about children's homes, foster care, international adoptions, bringing together sociological analysis, historical perspective and the study of reforms in the field of institutional care with personal accounts of the children.

Elisabeth Blanchet is photographer, writer, film and image maker and a museum director who has been working for the past 25 years on several long-term documentary projects: Ceausescu's orphans, 30 years later, that has been exhibited several times, in Romania and France and Gypsies and Travellers in the UK - a long-term ongoing project, that started in 2001, documenting life on Irish Travellers and Romani Gypsies' sites all over the UK. This project was exhibited at Autograph ABP and at the Hereford Photography Month, UK. It was also awarded the Prix Virginia Jury's Choice award in 2016.
Mariela Neagu is researcher, consultant in human rights and former Minister for Children's Rights in Romania. She holds a PhD from University of Oxford and she has worked at Rees Centre, Department of Education-University of Oxford, evaluating projects funded by the Department of Education's Innovation Programme in children's social care. Her most recent publication is Voices from the Silent Cradles: Life Histories of Romania's Looked-After Children, published by the prestigious Bristol University Press (July 2021).
Luciana Jinga is a researcher and historian within the Institute for the Investigation of the Crimes of Communism and the Memory of the Romanian Exile in Bucharest since 2007. After a doctorate in co-supervision: Romania and France in 2011, she was hosted at the University d'Angers. Her research work focuses on gender and childhood under communist and post-communist regimes.
The exhibition will be broadcasted on 12 May 2021, from 18.00 and the discussion on the same day, from 19.00, on RCI London's online channels (Facebook page, YouTube channel & later recorded on the website).