Lia Perjovschi's first exhibition in Ireland
04 - 20/11/2011 @ James Hardiman Library, National University of Ireland, University Road, Galway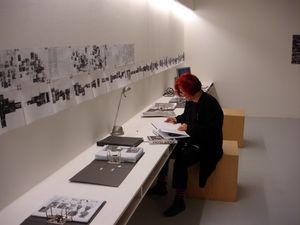 Lia Perjovschi, one of Romania's leading contemporary artists, opens her first exhibition in Ireland with the support of the Romanian Cultural Institute London, as part of the TULCA Art Festival in Galway.
For nearly twenty years, Lia has embarked on a project-as-an-institution, employing the recent history of art as material for building up relations and dialogue. The CAA (Contemporary Art Archive) is a "context in motion", a "museum in files", based on meticulous documentation of the international art scene. Her works are neither installations nor performances; they look like offices for individual research, reading rooms or places for debates; the focus is the body of art.
The installation of Lia's work will be sited in the James Hardiman Library, one of the central areas of the National University of Ireland Galway.
The TULCA Season of contemporary visual art is one of the most important annual art events in Galway and in the West of Ireland. This year's programme, curated by Megs Morley, addresses the role of art at a time of local,
national and international recession, political collapse and social upheaval, under the familiar yet ambiguous name "After the fall".
The programme features local and international artists in multiple art and non- art spaces throughout Galway city, unexpected live-art performances, and a programme of discussions, talks, workshops and debates with artists, critics and curators.
When: 4 – 20 November 2011
Where: Galway, Ireland