Legendary Actor Dorel Vișan Opens Our New Performance Series, 'Poets to the Bone'
29/05/2014 @ ICR London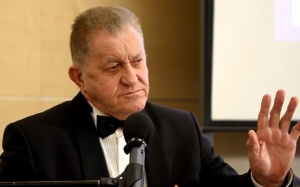 Thespian Dorel Vișan, a giant of Romanian stage and film, will open our newest programme with a homage event dedicated to the greatest Romanian poet of all time, Mihai Eminescu. 'Poets to the Bone' is a series of small-scale yet dazzling performances, based on the outstanding Romanian poetical and theatrical tradition and starring some of the most famous names in Romanian theatre.
Dorel Vişan will offer his audience a seamless journey through the timeless universe of Mihai Eminescu's poetry, accompanied by a subtle, but powerful performance by cellist George Paşca, in a vibrant encounter between stories, poetry, theatre and music.
The recital will be presented in Romanian with English surtitles.
Dorel Vişan is one of the most revered Romanian theatre and film actors. He is also a very sensitive poet, the author of four volumes of poetry, and a member of the Romanian Writers' Union. The artist appeared in over 40 roles in theatres all over the country, playing from Molière to Shakespeare and from Marivaux to Buchner. He has also featured in more than 50 Romanian and international films amongst which 'Iacob' ('Jacob'), 1988, by Mircea Daneliuc, 'Cel mai iubit dintre pământeni' ('The Most Beloved of Earthlings'), 1993, by Şerban Marinescu, and 'Senatorul melcilor' ('The Snails' Senator'), 1995, by Mircea Daneliuc.
Romanian cellist George Paşca attended a full time BMus (Hons) Performance course at the Trinity Laban Conservatoire of Music and Dance in London, where he studied cello with Joely Koos and baroque cello with Susan Sheppard. He is the recipient of numerous regional, national and international prizes and has been generously sponsored by Sidney Perry Foundation, the Raphael Summer Music Scholarship Trust and the Ofenheim Charitable Trust. Presently, George leads an active life as a solo, chamber and orchestral musician both in London and his home town in Romania and is currently enrolled on a full time MMus Performance course at the same conservatoire, studying cello with Naomi Butterworth.
When: Thursday 29 May, 7pm
Where: Romanian Cultural Institute, 1 Belgrave Square, SW1X 8PH
Admission is free, but please confirm your attendance at office@icr-london.co.uk or 020 7752 0134.
The seats are allocated on a first come, first served basis.