Legacies of Courage: photo exhibition and screening
12/12/2019 @ RCI London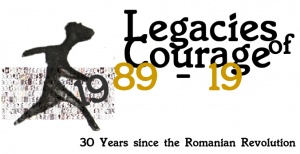 The season 'Romania: Legacies of Courage 89-19' continues with the opening of the exhibition 'Apertures of a Revolution. Photos from December 1989' and a special screening of the documentary 'After the Revolution'.
The photo exhibition comprises images from the archive of Agerpres (Romanian National News Agency) shot in December 1989, in Bucharest and Timișoara. The exhibition is organised by the Romanian Cultural Institute, in partnership with AGERPRES and the Embassy of Romania.
After the Revolution / După Revoluţie
Documentary, Romania, 2010, 82 mins. Director: Laurentiu Calciu | Producer: Rupert Wolfe Murray
'After the Revolution' documents the street protests that took place in Bucharest in early 1990, immediately following the 1989 Revolution, capturing a moment of post-revolution anarchy in which people spoke without inhibition. In this observational documentary, ordinary people talk passionately on the streets and are filmed with patience and humour.
Director Laurentiu Calciu, who shot the material on VHS in 1990, and producer Rupert Wolfe Murray will discuss the film with Magda Stroe, Acting Director RCI London.
Thirty years ago, the communist regimes in the countries behind the Iron Curtain lost their grip on power. One by one, the monolithic structures of control and oppression succumbed, the freed citizens vacillating between disbelief and immense joy. When in December 1989, the Romanian Revolution started in Timisoara followed by Bucharest and other cities, the whole world was gripped by the stories of sacrifice unfolding on the TV screens.
In an attempt to bring an inside perspective to the crucial events that took place 30 years ago and the reverberating, all-changing effect they have had, the Romanian Cultural Institute in London is honoured to present 'Romania: Legacies of Courage 89-19' season, showcasing extraordinary stories and personalities who have shaped our recent history intertwined with personal accounts of the rippling waves which have profoundly transformed the Romanian society.
There is no common denominator for the testimonies comprised in the season, as they come from different vantage points and are articulated in unique creative vernaculars, other than the unambiguous courage which can only be sustained in the pursuit of freedom.
When: Opening: Thursday 12 December 2019, 19:00.
The exhibition can be visited until 10 January 2020, Mon-Fri 10.00-17.00 (except Christmas holidays). Please call 0207 7520134 to book outside opening hours.

Where: Romanian Cultural Institute, 1 Belgrave Square, SW1X 8PH, London
Free entry.