Exhibition: Labours of Love - Romanian Books in English
16/04/2013 @ ICR London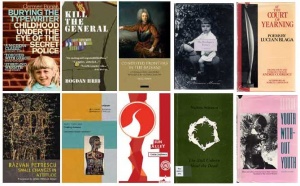 Tuesday 16 April, 19.00: Labours of Love: Romanian Books in English
Romanian Cultural Institute, 1 Belgrave Square
Under the patronage of HE Dr Ion Jinga, Ambassador of Romaniato the Court of St James's
Private view of an exhibition that highlights the extraordinary achievements of many translators and publishers through the books that embody this fecund history of Romanian literary presence in Britain. The event is organized with the support of the Library of the School of Slavonic and East European Studies at UCL and is followed by a cocktail honouring the efforts of all those involved in the promotion of Romanian books and culture. Musical background is provided by acclaimed pianist Sergiu Tuhutiu.
The event is free, but please confirm your attendance at events@icr-london.co.uk.
Please read our blog romanialbf.blog.co.uk (in Romanian) about Romania's presence at the London Book Fair 2013.