Konrad Elias-Trostmann and Jinah Shim are the winners of the 2011/12 Enescu Scholarship
05/10/2011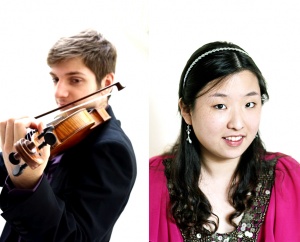 Violinist Konrad Elias-Trostmann and pianist Jinah Shim are the winners of the 2011/12 Enescu Scholarship, granted by the Romanian Cultural Institute in partnership with the Royal Academy of Music (RAM) and Guildhall School of Music and Drama (GSMD).

The Enescu Scholarship is part of the Romanian Cultural Institute's programme to develop awareness in the UK of George Enescu's outstanding music heritage. Launched in December 2008, the scholarship was offered annually to an outstanding student at the RAM, but, starting this year, The Romanian Cultural Institute in London decided to also award the scholarship to students at GSMD. So far, the winners for the academic year 2009/10 and 2010/11 were pianists Karim Said and Florian Mitrea.
Konrad Elias-Trostmann and Jinah Shim will be awarded GBP 3.145 in support of their annual tuition fee at the RAM and GSMD. They have been selected on the basis of the RAM and GSMD recommendations from six talented young musicians: Alanna Tonetti Tieppo, Konrad Elias-Trostmann, Kristine Balanas, Walid El-Yafi, Erdem Misirlioglu and Jinah Shim.
The RAM students auditions were evaluated by Noel Malcom – historian and Enescu's biographer; Cristian Perşinaru – violinist, Head of Strings at Trinity School of Music, and Kim Sargeant – musician and General Manager of the European Union Youth Orchestra. In the GSMD jury, Kim Sargeant was replaced by Remus Azoitei – violinist, professor at RAM and artistic director of the Enescu Society of London.
Born in London, in 1989, Konrad Elias-Trostmann is a very talented and expressive violin player, with an excellent technique and a strong sense of creativity. Having won several awards at various national and international festivals, Konrad has turned his attention to Enescu's work, stating that his music "speaks with much sensitivity and is greatly moving". As an Enescu Scholarship winner, Konrad will be involved in promoting Enescu's cultural heritage across UK.
As a student of the Guildhall School of Music and Drama, piano player Jinah Shim already displayed a mature musical intelligence and a reliable technique, winning qualities in her bid for the 2011/12 Enescu Scholarship. Although very young, Jinah has an impressive resume and has won numerous competitions in both individual and team projects. She thinks that "one must produce polished, flamboyant performances to be considered great musician". Perfection is not everything; as Enescu once said, "it is important in art to vibrate oneself and to make others vibrate".