JONATHAN COE meets MIRCEA CĂRTĂRESCU
03/11/2021 @ Romanian Cultural Institute London , 1 Belgrave Square, SW1X 8PH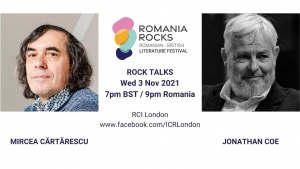 The distinguished British novelist meets the renowned Romanian author. Hosted by author and TV presenter Tessa Dunlop.
Jonathan Coe was born in Birmingham in 1961. He is the author of thirteen novels, includ-ing the incredibly successful What a Carve Up! (1994), The Rotters Club, The House of Sleep and Middle England, which won the Costa Novel of the Year award and the Prix du Livre Européen. He's also written non-fiction and children's books. Known for his political 'state of the nation' satires, he is also inspired by music ,TV and film. His books have been adapted for TV, stage and radio. His latest book, Mr Wilder and Me, is a 'non-fiction novel' about the later years of the great film director Billy Wilder.
https://en.wikipedia.org/wiki/Jonathan_Coe
https://www.penguin.co.uk/authors/21695/jonathan-coe.html
https://www.irishtimes.com/culture/books/jonathan-coe-all-my-influences-were-pushing-me-towards-film-and-television-1.4394347
Mircea Cărtărescu was born in 1956 and is one of Romania's most widely published and eminent authors, a poet, novelist, essayist and academic, winner of numerous major awards, including the 2000 Romanian Writers' Association Prize and the 2012 Berlin International Prize for Literature, and touted as a possible Nobel Prize for Literature winner. His poems are taught in Romanian schools and his novels, such as Solenoid and The Blinding are considered modern masterpieces. His cult novel Nostalgia from 1989 has just been re-issued by Penguin Modern Classics (translation: Julian Semilian)
https://en.wikipedia.org/wiki/Mircea_Cărtărescu
https://www.musicandliterature.org/features/2018/12/5/an-interview-with-mircea-crtrescu
https://www.youtube.com/watch?v=5BwBwBlb4YE
https://www.penguin.co.uk/authors/144328/mircea-cartarescu.html
https://www.calvertjournal.com/articles/show/12884/romanian-literary-star-mircea-cartarescu-author-profile-interview-life-literature-success-nostalgia-penguin
Tessa Dunlop is a British television and radio presenter and journalist, author, historian and Romania specialist. Tessa's first book, To Romania with Love, a memoir set in post-revolution Romania about how she met her future husband, was published in 2012.
Other publications: The Century Girls: The Final Word from the Women Who've Lived the Past Hundred Years of British History (2018); The Bletchley Girls: War, secrecy, love and loss: the women of Bletchley Park tell their story (2015). Her latest book Army Girls: The secrets and stories of military service from the final few women who fought in World War II is out November 2021, launching the week of the Romania Rocks festival.
https://en.wikipedia.org/wiki/Tessa_Dunlop
https://www.romania-insider.com/tessa-dunlop-oct-2020
When: Wed, 3 November 2021, 19.00
Where: Romanian Cultural Institute in London, 1 Belgrave Square, SW1X8PH
Entrance is free but we kindly request you to book your ticket on EVENTBRITE.
Kindly book only if you are certain to attend and release the seats.
Please note that seating is unreserved.
*Face coverings highly recommended.