Jazz Festivals & Presenters: What's Next?
28/05/2020 @ RCI London's facebook page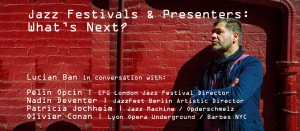 In the fourth and last episode of our online conversation series about jazz, we will be joined by Pelin Opcin, EFG London Jazz Festival Director, Nadin Deventer, Artistic Director of JazzFest Berlin, Patricia Jochheim, Jazz Programmer at Opderschmelz Art Centre - Dudelange Luxembourg and Olivier Conan, Director Opera Underground - Opéra de Lyon.

The dialogue will be moderated by celebrated pianist & composer Lucian Ban, who takes over "I soul a t i o n", the Romanian Cultural Institute in London series of interviews with artists, launched on 31 March 2020.

The discussion will bring perspectives on how the pandemic has affected the jazz community, the musicians, the audiences and big festivals and institutions that work to present live jazz & improvised music.

"The artists will try to highlight the challenges and the community's reaction, on both sides of the Atlantic, during the global crisis. Cancelled tours and concerts, closed halls and clubs, postponed festivals - which are the questions and, moreover the answers of this challenge? How can practitioners and institutions, artists and critics contribute to the new reality and to the idea of hope?" (Lucian Ban)
When: Thursday 28 May 2020, 16.00
Where: online via RCI London Facebook page and later on recorded on RCI London's Youtube channel