Irina Margareta Nistor: The Voice of 5,000 Movies
29/10/2019 @ The British Library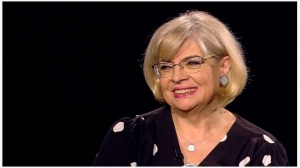 The Romanian Cultural Institute is thrilled to partner up with the British Library in bringing to London the iconic figure of Romanian film industry, Irina Margareta Nistor. This event provides the opportunity to get acquainted first-hand with the intricacies of illegally dubbing films during Communist Romania. These VHS tapes, smuggled in from the west, quickly spread and her voice became one of the best known in the entire country.
In a discussion with film writer and broadcaster Andrew Collins, she will explore the spectrum of challenges which such an activity involved.
Irina Margareta Nistor worked for Romanian Television from 1980 until 1999, first as a film translator, then as a programme producer. She remains active within the Romanian film industry. In 2012, she launched the Psychoanalysis and Film Festival, headed by psychoanalyst Andrea Sabbadini, an offshoot of the European Psychoanalytic Film Festival run by Bernardo Bertolucci. For nine years, she has presented a weekly one hour Sunday program on Radio Guerrilla, The Voice of the Movies, and in 2006, she published a book about her mentor, film critic D I Suchianu. She was an HBO adviser and a member of the screenplay jury of the Romanian National Fund of Cinematography. She has also been the programmer of the DaKINO international film festival.
Irina's remarkable story has also been featured in the documentary Chuck Norris vs. Communism directed by Romanian filmmaker Ilinca Călugăreanu.

Andrew Collins is a writer and broadcaster who is currently film editor of Radio Times and presenter of Saturday Night At The Movies on Classic FM. He edited Q and Empire, and co-wrote the sitcoms Grass, with Simon Day, and Not Going Out, with Lee Mack. His latest book is That's Me in the Corner and first Radio 4 sitcom is Mr Blue Sky.
The event is part of the Season of Sound, the British Library's annual celebration of all things audio.
When: Tue 29 Oct 2019, 19:00 - 20:30;
Where: Knowledge Centre, The British Library, 96 Euston Road, London, NW1 2DB;
Tickets: £13.00 (Concs £6.50-£11.00) from www.bl.uk