Ioan Nemțoi: Sculpture in Glass
08/11/2018 @ Romanian Cultural Institute, 1 Belgrave Square, SW1X8PH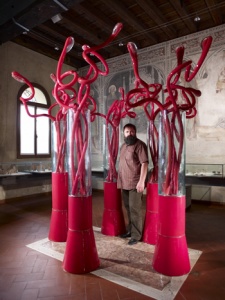 RCI's Brâncuşi Gallery at 1 Belgrave Square shines a spotlight on glass for a special exhibition signed by Ioan Nemțoi, one of Romania's most acclaimed contemporary artists. Often called 'the Brâncuşi that works in glass', the artist will inaugurate the exhibition with a talk about the transformation of craft into art, removing the border between decorative arts and monumental sculpture. Comprising a selection of outstanding glass works that sit at the intersection of sculpture and installation, the show will be accompanied by a short documentary about the artist's life and work and will be prefaced by curator Mariana Nemțoi.
'Ioan Nemţoi's popularity has, at present, long crossed Romania's borders. With his Brancusi-like demeanour, when talking about the art of glass Ioan Nemțoi introduces us to a fascinating world that he is obviously passionate about, which he knows like no other but which, at the same time, he continues to discover. (…) Ioan Nemţoi's art seems to result from the original energies of the world, from the hot lava that has moulded the planet for millions of years. It is not by chance that his international success is so great: through the chosen matter, domesticated by his inspired hands, as well as through his inventiveness, Ioan Nemţoi rehabilitates in a way the idea of ​​beauty. What had already been dynamited by the Dadaists a hundred years ago, namely the connection between the concept of art and the concept of beauty, resides in each of Ioan Nemțoi's works.' – playwright, journalist and poet Matei Vişniec
A graduate of the Bucharest Fine Arts Academy in 1991 and a member of the Romanian Fine Artists' Union, Ioan Nemțoi is a ground-breaking glass artist. A world-class creator, he is much appreciated for his striking fantasy and for his impeccable technique. Nemțoi uses the transparency of glass to outline a magnificent visual reality, in which the primordial elements of the universe - water, air, fire and earth - become the accomplices of the aesthetic act. He takes one of the most fragile materials in the world and turns it into opulent, powerful works of art. Always in competition with the great names of glass sculpture such as Dale Chihuly, Marvin Lipofsky, Howard Ben Tré, Yoichi Ohira, Mona Hatoum, or Jean Arp, his works can be found in famous collections, such as that of King Harald of Denmark, Queen Elizabeth II of Great Britain, Kofi Annan or Vladimir Putin, Emma Nicholson, HRH Princess Margareta of Romania, but also in the Vatican Museum, Kunstpalast in Düsseldorf, at the UNICEF headquarters in New York, McLarren Technology in the UK, Waterland Neeltje Jans Museum in the Netherlands, The White House in Washington or famous galleries in Romania, Great Britain, Norway, Sweden, Denmark, the Netherlands, France, Italy, Canada, the USA, Japan, Hungary, Germany or Belgium.
When: Opening and drinks reception 8 November 2018, 7-9pm. The exhibition continues until 28 January 2019, Monday to Friday between 10am – 5pm. By appointment only between 24-31 December, please call 07919022796.
Where: Romanian Cultural Institute, 1 Belgrave Square, SW1X 8PH
Free entry. Please confirm your attendance on EVENTBRITE.