Maria Raducanu reinterprets Romania's musical heritage
05/11/2011 @ Kings Place, Hall Two, 90 York Way, London, N1 9AG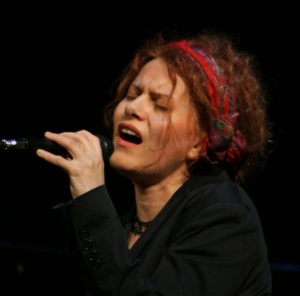 Following her 2010 memorable performance in 1 Belgrave Square, charismatic singer Maria Raducanu is back in London with an explosive mingling of Romanian ethos and nowadays music (blues, jazz, avant-garde).
At Kings Place, Maria will be accompanied by the acclaimed percussionist Michael Griener and bass player Chris Dahlgren. The event is part of the London International Festival of Exploratory Music and is organised in collaboration with the RCI London.
A rebel soul, Maria Răducanu grew up listening to Billie Holiday, Betty Carter and Nat King Cole, wishing that someday she would sing Coltrane's compositions with Keith Jarrett's imagination and expressiveness. She is an artist hard to categorize. She likes to provoke the public to sincerity and openness. Offering an inspiring mix of songs and soulfoul exaltation, Maria cuts a compelling figure among today's Romanian singers.
"Possessing one of the most distinctive voices in the world, Maria Raducanu mixes Romanian dirges with fado, rembetika, blues and improvisation, creating music that is pure, deeply emotional and goes straight to the heart." Tzadik record label
Clik here to listen to her music. Her Kings Place's performance will be as vibrant and versatile as you'd expect.
When: Saturday, 5 November 2011 – 8:00pm
Where: Kings Place, Hall Two, 90 York Way, London, N1 9AG
Tickets: £12.50 Saver Seats £9.50 (subject to availability) at 02075201440 or online at http://www.kingsplace.co.uk/whats-on-book-tickets/music/music-from-romania-with-maria-raducanu
*LIFEM Multi Event Offers - Book 2, 3 or 4 concerts and save up to 20%: http://www.kingsplace.co.uk/whats-on-book-tickets/curated-weeks/london-international-festival-of-exploratory-music-2011