Inspired by... Britten. Mercury Quartet Revisits the Great Composer's Work
12/12/2013 @ Romanian Cultural Institute, 1 Belgrave Square, SW1X 8PH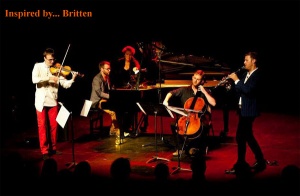 The series of musical events organised by RCI London continues with a concert that celebrates, in an ingenious manner, the personality and the work of the great composer, pianist and conductor Benjamin Britten, 100 years after his birth. Four rising stars of UK's contemporary music scene, known as the Mercury Quartet – Vlad Maistorovici, Romania (violin), Harry Cameron-Penny, Great Britain (clarinet), Corentin Chassard, France (cello) and Antoine Francoise, Switzerland (piano) – present an original interpretation of major works that were inspired by the British composer. The event is organised with the support of the European Commission Representation in the UK and under the auspices of EUNIC London.
Programme:
Thomas Ades - "Catch"
Frank Bridge - "Romance"
Benjamin Britten - medley
Colin Matthews - "Fantasia" XIII
Vlad Maistorovici - "Mutations"
Oliver Knussen - "Upon One Note"
Thomas Ades - "Court Studies"
Performing either as a quartet or alongside internationally renowned guest artists, the award-winning Mercury Quartet perform classic works of the 20th century alongside improvisations, live compositions, new commissions and less known masterpieces.
Recent projects have included the recording of their debut CD on the Non-Classical label, and performances of Schoenberg's "Pierrot Lunaire" with Julian Jacobson (London/O ford) and Linda Hirst (Dartington) and Elliot Carter's "Triple Duo" in London, Dartington, Oxford and France. Recently they worked with Israeli composer Nimrod Katzir, premiering his recent composition "AZZA" in Switzerland. They have also recorded for and broadcast on the Swiss station "Radio de la Suisse Romande" and were invited to appear and perform on BBC Radio 3's "In Tune" show.
The Mercury Quartet was formed at the Royal College of Music (RCM) to realise a shared passion for Messiaen's "Quartet for the End of Time". They have performed across the UK and abroad, including the Jacqueline Du Pré Music Building, Holywell Music Rooms, Sheldonian Theatre (Oxford), St. Martin-in-the-Fields, St James's Piccadilly, The National Gallery (London), The Great Hall (Dartington), as guest artists at the Dinan Conservatoire de Musique (France) and at Festival des Jardins Musicaux (Cernier, Switzerland). They also won a place as artists to be represented by Concordia Foundation in 2007. The Quartet have appeared as artists in such festivals as The Chelsea Schubert Festival (2008), The Rosemary Branch Festival (2009), The Vienna City of Dreams Philharmonia and Esa-Pekka Salonen Festival (2009) and Dartington International Summer School (2010).
The Quartet's commitment to contemporary music has seen them give workshops and premiere many different pieces. In 2009 they visited Kings College London to work with and perform the compositions of the Doctorate students of George Benjamin and in the Summer of 2010 they were resident artists at Dartington International Summer School where they workshopped and performed the compositions of Julian Anderson's advance composition class, as well as coaching a student ensemble on "Pierrot Lunaire".
When: Thursday 12 December, 7pm
Where: Romanian Cultural Institute, 1 Belgrave Square, London SW1X8PH
Admission is free, but places are limited. Please confirm your attendance at T: 020 7752 0134, E: office@icr-london.co.uk
Seats are allocated on a first come, first served basis.