Inspiration and Improvisation: a Piano Extravaganza in Celebration of the great conductor and composer Constantin Silvestri
03/10/2013 @ Romanian Cultural Institute, 1 Belgrave Square, London, SW1X8PH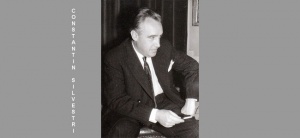 The Romanian Cultural Institute is proud to open its 2013-2014 season of the Enescu Concerts Series with a piano extravaganza celebrating the genius of Constantin Silvestri at 100 years since his birth. The concert is presented by renowned pianists Anda Anastasescu and Alberto Portugheis, joined by oboist Aurel Marc and two of the 'Silvestri' Scholarship alumni, Octavia Marc Raceu and Daniel Ciobanu.
The audience will hear a programme focused on panache, colour and expressivity in music by Silvestri, Enescu, Mozart, Debussy, Ravel and Strauss, but also on original miniature works composed by young musicians especially for this event dedicated to Silvestri.
Programme:
Wolfgang Amadeus Mozart – Variations and Rondo Alla Turca
Constantin Silvestri – Piano Suite No. 3
Constantin Silvestri – Baccanale
Radu Paladi – Rondo a capriccio
George Enescu – Burlesque
Alfred Grünfeld – Transcription of Johann Strauss II: Die Fledermaus
Constantin Silvestri – Sonata for Oboe and Piano
Drew Wilson – Reliquary. I.M. Constantin Silvestri 1913-1969
Jonathan Östlund – Lumière des Etoiles. Homage to Constantin Silvestri
Claude Debussy - L'Isle Joyeuse
Alberto Ginastera – Milonga Op.3; Malambo Op.7
Sviatlana Rynkova – The Legend of Lake Naroch. Homage to Silvestri
Constantin Silvestri – Romanian Dances from Transylvania
Maurice Ravel – Le Jardin féerique
The event is organised in association with the Constantin Silvestri International Foundation.
The 'Silvestri' Scholarship was founded by pianist Anda Anastasescu and the Pocklington School (York) and Stewart's Melville and Mary Erskine School (Edinburgh).
We are grateful to Sir George Iacobescu for his support.
Noted for his magical powers as a conductor, Silvestri was also an outstanding and adventurous composer and pianist. He was still a student at the Bucharest conservatoire when he gave public concerts improvising on the piano in the style of famous composers. George Enescu is said to have come to one of these performances and asked the pianist, already himself a composer of some thirty works: 'And now, what about doing something in the style of Silvestri?'
Legendary Romanian conductor and composer Constantin Silvestri was principal conductor of the Bucharest Philharmonic, Romanian National Opera and National Radio orchestras, and of the Bournemouth Symphony (1961-1969), which he transformed into an orchestra of international repute. He conducted the world's finest orchestras and many of his recordings have been recognized as being among the greatest ever. As a composer, Silvestri is considered to be Romania's second, after Enescu. As with Enescu, the greatness of Silvestri's music is the result of its uncompromising sincerity, magic, passion and of its complex musical language. The two revered musicians crossed their paths several times. Enescu honoured Silvestri's compositions with his coveted Enescu Prize and by conducting one of his works. Silvestri conducted first performances of many of Enescu's works including the Romanian Première of the monumental opera "Oedipe".
Since winning the Debussy International Piano Competition in Paris in unanimity of the jury Anda Anastasescu has performed on five continents in prestigious festivals and concert halls. Antoine Goléa, the famous Doyen of French critics wrote about her:"‹ Yet another pianist! › you may think. No, of this calibre the world can never have enough.' She is a Commander of the Order of Cultural Merit in her native Romania; a European Woman of Achievement in the arts in Great Britain 'in recognition of an outstanding contribution to pan-European understanding and progress that provides an inspiration to others'; President of the Constantin Silvestri International Foundation; and recipient of the Romanian Ambassador Diploma 2013 'for exceptional contribution to the promotion of Romanian culture'. Her performances across the world and her recordings on 11 CDs from Mozart, Schubert, and Mendelssohn to Enescu and the contemporary composers have been consistently praised for their artistry, passion and imagination.
When: Thu 3 October 2013, 7pm;
Where: Romanian Cultural Institute, London
Admission is free, but places are limited. Early booking is well recommended.
Please reserve your seats at T: 020 7752 0134, E: office@icr-london.co.uk
The seats are allocated on a first come, first served basis.