In Search of the Dacians: Rediscovering Sarmizegetusa Regia, the enigmatic capital of the Dacian Kingdom
26/11/2019 @ Romanian Cultural Institute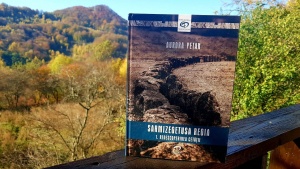 The Romanian Cultural Institute invites you to a stroll among the edifices of the great Dacian Kingdom's capital. The talk on Sarmizegetusa Regia, delivered by author Aurora Pețan, will lead the audience on a tour-de-force through the intricacies of the Dacian Kingdom, the secrets revealed through assiduous research since the rediscovery of the fortress 200 years ago and those that still evade our understanding.
A site included in UNESCO World Heritage, Sarmizegetusa Regia was at the centre of the Trajan's Dacian Wars and bears the traces of its tumultuous past. Using visual aids including video reconstructions, Aurora Pețan's talk will explore the evolution of its pivotal role for the region, as well as the spectrum of challenges faced by the fortress in the past 2000 years.
The second part of the event will see more fascinating stories being told in an engaging discussion between Aurora Pețan and classicist and Romania enthusiast Bronwen Riley, author of Transylvania and Journey to Britannia: from the heart of Rome to Hadrian's Wall, AD130 (US edition: Edge of the Empire), who has recently visited Sarmizegetusa. From the detective quest for the Dacians in the post Roman-conquest times, or the all-consuming search for the Dacian gold to an attempt to outline the landscape of future areas of research and re-interpretation, the range of topics will appeal to the general public and the interested specialists alike.
Aurora Pețan is the author of the book 'Sarmizegetusa Regia - Rediscovering the fortress', a work which also contains an English summary. She is a researcher within the Research Center of the Dacian Foundation, with a degree in classical studies, two master degrees in Classical Philology and Archeology and Classical studies, as well as two PhD in History and Philology.
Bronwen Riley is a writer, lecturer and editor with a special interest in the Classical world and in Romania – both life-long passions. She is the former Head of Content and guidebooks series editor at English Heritage. Bronwen is now director of the biennial Transylvanian Book Festival and organises cultural tours specialising in historic journeys through Reality&Beyond. She is currently writing a book on fourth-century pilgrimage.
When: Tuesday 26 November 2019, 19.00
Where: Romanian Cultural Institute London
Free entry, but booking is essential. Please reserve your seat here.