In Pursuit of the Rare: Alexandru Negriuc in the Enescu Concerts Series
02/04/2015 @ Romanian Cultural Institute, 1 Belgrave Square, SW1X8PH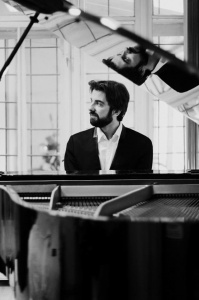 One of the most promising young Romanian pianists of the day, London-based Alex Negriuc, delivers a programme full of exuberance and discovery, which includes, alongside established works by Beethoven, Rachmaninov, Chopin and Enescu, little known scores by 19th century Transylvanian child prodigy Carl Filtsch, who died at only fifteen.
The recital, offered under the patronage of HE Dr Ion Jinga, the Romanian Ambassador, will be preceded by a conversation on the life and work of Carl Filtsch, Chopin's favourite pupil and Liszt's protégée.
Programme:
Ludwig van Beethoven - Sonata Op. 27 no. 2 - 'Moonlight Sonata'
Frédéric Chopin - Impromptu Op. 29 in A flat major; Impromptu Op. 29 in F sharp major; Impromptu Op. 59 in G flat major
Carl Filtsch - Impromptu in G flat major; Mazurka; Adieu
Sergey Rachmaninov - Etude-tableaux Op. 39 no 3; Etude-tableaux Op. 39 no 2; Etude-tableaux Op. 33 no 4
George Enescu - Toccata Op. 10
Born in 1988 in Suceava, Romania, Alexandru Negriuc began his piano studies at the age of seven at the Ciprian Porumbescu College with professors Valan Petru and Gagiu Richard. His first solo appearances took place a year later and he made his debut with orchestra at the age of 14. He continued his studies until the age of 23, taking part in master classes with Georg Sava, Angela Brownridge, and Walter Krafft, and in recent years has given recitals in the United Kingdom, Italy, Switzerland, Germany, Australia, USA, China, Hungary, Republic of Moldova and throughout Romania. An invitation by Walter Krafft saw Alexandru appear as a soloist many times at the Munchener Musikseminar in Germany, and with Walter Krafft he founded the International Pianistic Forum of Dinu Lipatti.
Having graduated in 2013, Alexandru has recently moved to London to embark on a solo career.
'Alexandru Negriuc profoundly impressed the public by creating a direct path of communication through sounds and music.' - Monitorul de Suceava
'His way of playing is so intense that he becomes one with the instrument.' - Murnauer Tagblatt
Carl Filtsch (1830-1845) is one of the most interesting and at the same time also most tragic figures in Transylvanian music history. He definitely is the one of the most outstanding 19th century musicians. Carl Filstch was born on May 28th, 1830, in Mühlbach (Transylvania, Romania), as the tenth child of the protestant town vicar Joseph Filtsch and his wife Caroline. Early in his childhood he showed strong signs of musical genius and in fact started piano lessons with his father at the age of 3. His short life was a journey of success all through Europe, a meteoric triumph, however abruptly interrupted. As a pianist Carl Filtsch reached his artistic peak when, at the age of 12, he became Chopin's favourite pupil and friend. In the Hungarian and Transylvanian provinces as well as in the European music metropolis of Vienna, Paris and London, he was cheered and celebrated. His picture was hanging in the Parisian music shops, and he was portrayed by famous painters.
Thanks to the motherly and loving care of the countess Jeanette Banffy, whom Carl's parents entrusted to look after him from the age of 6, he had piano lessons in Vienna with the most famous teachers of the time: August Mittag, the teacher of Thalberg, Friedrich Wieck, the father of Clara Schumann, and Simon Sechter. After a short time a friendship of mutual admiration and support developed between Carl Filtsch and the two piano titans Thalberg and Liszt. After having both improvised together on the idea thunderstorm Liszt gave Filtsch a transcription of a Schubert serenade with the following dedication: 'To the Transylvanian child prodigy!'. Liszt later also said: 'Once this boy starts touring I can close shop!'. Meyerbeer called him 'a great musical future' and Chopin once said, with tears of joy in his eyes, after he had listened to Carl Flitch's recital of his E minor Piano Concerto: 'My god, what a child! Nobody has ever understood me as this child does, the most extraordinary thing I have ever experienced... Although he never heard me play and I never showed him anything, he plays nearly all of my compositions, not exactly like me, but certainly no less well that I do'.
All important newspapers and musical journals of the time in Vienna, Paris and London published overwhelming reviews. In an article published in the Musical World, the critic Sterndal wrote: 'Carl Filtsch is one of the most miraculous figures in the history of art. He has proven that it is not beyond nature that a little boy, even a child, should have the spirit and the energy of a man. Balzac called Victor Hugo an 'enfant sublime', and this also applies literally and entirely to this early talent. Neither Mozart nor Mendelssohn promised more at this age'.
Unfortunately, death called the artist fat too early in his life. The local newspaper Siebenbürger Bote published the following obituary: 'Carl Filtsch died on the 11th of May at one o'clock in the morning in Venice. An early blossom, promising the most delicious fruit, passed away far too early...'. In Harald C. Schonberg's book entitled 'The Great Pianists: A history of the piano and the most famous interpreters from early beginnings until present', there is the following passage about Chopin: 'Chopin only had one really excellent pupil, Carl Filtsch, a blond genius - who died of consumption at the age of fifteen'.
In spite of his early death, Carl Filtsch left pieces of remarkable mastery. His piano compositions, showing however Chopin's influence, are the result of an original precious talent.
When: Thu, 2 April, 7pm
Where: Romanian Cultural Institute in London, 1 Belgrave Square, SW1X 8PH
Free entrance. Please book your ticket on Eventbrite.
Please note that the seating is unreserved.