In July, The Romanian Cinematheque Goes 'Back Home'
06/07/2017 @ Romanian Cultural Institute London, 1 Belgrave Square, SW1X 8PH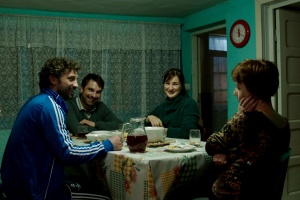 We are excited to continue our Cinematheque with a brilliant film that resonates across all cultures, 'Back Home' by Romanian director Andrei Cohn, a bitter-sweet comedy about the difficulties of confronting one's past.
If you miss it at the Cinematheque, you can see the film at the artFix, on July 7th, as part of our new partnership with the Woolwich cultural hub.
Robert (Alexandru Papadopol), a poet and journalist from Bucharest, visits his native village after many years. His mother has died and his relationship with his father proves unpleasant. The encounter with his old friends, Petrică (Andi Vasluianu) and Paula (Ioana Flora), becomes no less awkward. In the end, the return does not prove the best idea.
The film received several nominations at the Gopo Awards in 2016 and triumphed with Ioana Flora who received the award for Best Actress in a Leading Role.
Cast: Alexandru Papadopol, Ioana Flora, Andi Vasluianu, Mirela Oprisor, Florin Zamfirescu, Natasa Raab
Director: Andrei Cohn
Screenwriter: Mimi Brănescu
In Romanian with English subtitles.
When: Thursday, 6 July 2017, 7pm
Where: Romanian Cultural Institute London, 1 Belgrave Square, SW1X 8PH
Free entry. Please book your seat HERE.
When: Friday, 7 July 2017, 7pm
Where: artFix, 51 Powis Street
Woolwich,
 SE18 6HZ