Impetuous Pianist Nicolae Dumitru on London Tour
05/10/2017 @ Romanian Cultural Institute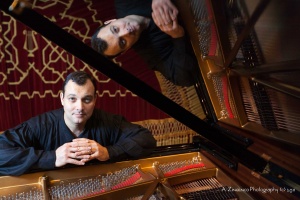 We are excited to resume our 2017 'Enescu Concerts' Series in force with a piano recital offered by one of the most revered Romanian pianists, Nicolae Dumitru. The programme features, alongside works by George Enescu, evergreen scores by Chopin, Brahms and Rachmaninov, highlighting the pianist's subtle musical sense and his impressive technique. Nicolae Dumitru will also perform at St James's Church on Piccadilly.
Programme:
G. Enescu - Melodie, Mazurk Mélancolique and Appassionato from Suite Op. 18
F Chopin - Ballade no. 1 in G minor
J. Brahms - Six Pieces Op.118
S. Rachmaninov - Variations on a Theme by Corelli Op. 42
Nicolae Dumitru debuted at the Romanian Athenaeum in Bucharest in 1987. In 1990, under the guidance of the great composer and piano player Dan Mizrahy, he was awarded a scholarship at the Gnessin State Musical College (Moscow). Nicolae Dumitru worked with various philharmonic orchestras from Moscow, Omsk, Belgorod, Chisinau, as well as with the George Enescu Philharmonic Orchestra, and the Romanian National Radio Orchestra. He was invited, on numerous occasions, to perform in Stockholm, Vienna, Lisbon, Madrid (EU Cultural Week), Barcelona, Budapest or Venice. In the course of the Chopin Bicentennial Year (2010), Nicolae Dumitru performed at The Palaces of Saint Petersburg, L'Académie d'Aix en Provence and held many recitals in Romania. These events were followed by a Grand Gala Concert at the Summer Theatre in Bucharest with the National Radio Orchestra conducted by Jin Wang. Later on, during the Franz Liszt Bicentennial Year (2011) he performed 'Liszt dans le Métr'" in the Bucharest subway. In 2013, Nicolae Dumitru initiated, with a sponsorship from the Raiffeisen Bank, a series of educational concerts in 15 Romanian cities.
The 'Enescu Concerts' Series:
When: Thursday, 5 October 2017 from 19:00 to 21:00
Where: Romanian Cultural Institute - 1 Belgrave Square London SW1X 8PH
Entrance is free but it is required to book your ticket on Eventbrite.
Please note that the seating is unreserved.
St James's Piccadilly Lunchtime Series:
When: Friday, 6 October 2017 at 13:05
Where: St James's Church, Piccadilly
This lunchtime concert is free and no ticket / booking is required.