"I Miss You" by Ana Blandiana read by Anamaria Marinca
31/08/2020 @ online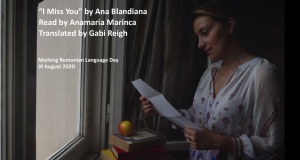 To mark the Romanian Language Day, we invited BAFTA winner Anamaria Marinca to bring you a page from a leading contemporary writer.
Her selection is Ana Blandiana's compelling text "I Miss You" (Mi-e dor) about the complex relationship with one's country. The essay has been translated into English especially for this occasion by
Gabi Reigh
(the translation is available here).
Romanian version: