'I'm Not Jesus Christ' by Maria Manolescu Premieres in London
09 - 26/05/2016 @ Theatre N16 Balham 77 Bedford Hill, SW12 9HD London, United Kingdom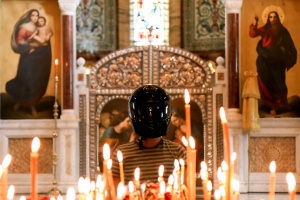 The Romanian Cultural Institute and Papercut Theatre are delighted to present the world premiere of 'I'm Not Jesus Christ' by Romanian playwright Maria Manolescu at Theatre N16 in Balham, as part of this year's Wandsworth Arts Fringe festival line-up. The play will be running between 9 - 26 May 2016, with press night on Wed 11th.
Developed during the International Residency at the Royal Court Theatre in 2007, 'I'm not Jesus Christ' is a darkly humorous true tale about 11-year old Mihai, raised by his mother to believe he is the Second Coming. All he really wants is to be like his hero Michael Schumacher but, as his birthday approaches, his mother has other plans in store. Maria Manolescu's play contrasts innocence with violence and asks where the limits of love and sacrifice are, in a world where the characters both resist society and are rejected by it, yet where they desperately crave love and approval.
"I was attracted to the true event that inspired the play because, although extreme and unusual, it outlines a universal peril: casting our children in the role of redeemers of our own anguish or sins." - playwright Maria Manolescu
The play is directed by Melissa Dunne ('I Still Get Excited When I See a Ladybird'), and produced for Papercut by Cristina Catalina ('Elevator', **** Time Out; 'All Change Fun Palace' at The Lyric Hammersmith; 'Das Spiel' at VAULT Festival, People's Choice Award), with support from the Romanian Cultural Institute in London. Translation by Cristina Catalina, originally commissioned by the Royal Court Theatre.
I'm Not Jesus Christ
Cast: Izabella Urbanowicz, Andrei Costin, Sharon Duffy and Maria Alexe
Director - Melissa Dunne
Producer - Cristina Catalina
Marketing assistant - Jana Hlavova
Stage manager - Remi Bruno Smith
Set & costume designer - Liz Marsden
Sound designer - Jon McLeod
When: 9-26 May, except Fridays and Saturdays
Where: Theatre N16 - Balham 77 Bedford Hill, SW12 9HD London, United Kingdom
Tickets: £10-£12 - you can book your tickets HERE