Holocaust Memorial Day 2021: Theatre performance "Yes, My Fuhrer" by the Jewish State Theatre
27 - 29/01/2021 @ online | Website, Facebook page and YouTube channel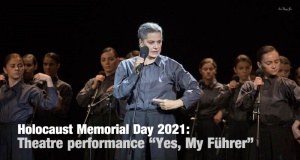 To mark the Holocaust Memorial Day on 27 January 2021, the Romanian Cultural Institute and the Embassy of Romania in the United Kingdom cordially invite you to the theatre performance "Yes, My Führer" (La ordin, Führer!) directed by Mihai Măniuțiu for the Jewish State Theatre in Bucharest.
The play, written by Austrian writer Brigitte Schwaiger, whose grandmother died in the Holocaust, stars renowned actress Maia Morgenstern as its lead character and has been presented in 2020 at the National Theatre Festival in Romania.
This monodrama is a meticulous study of a woman who focuses her life on the figure of the Führer and the principles of Nazi ideology, her fascination becoming an obsession.
Cast:
Führerin: Maia Morgenstern
Children: Raluca Radu, Ştefania Misăilă, Alexandra Duşa, Maria Teișanu, Bianca Bor, Teodora Budescu, Eva Danciu, Mariana Gavriciuc, Ana-Maria Iorga, Teodora Tudose, Marina Flueraşu, Aura Goia, Adela Mihai, Elisabeta Râmboi, Delia Riciu, Cristina Simion, Ana-Maria Pop, Claudia Ene, Selina Colceru, Ada Dumitru, Eliza Păuna, Nicoleta Marica, Cristina Negucioiu and Cristiana Ioniță
Directed by: Mihai Măniuțiu
Set Design: Adrian Damian
Costumes: Claudia Castrase
Choreography: Andrea Gavriliu
Music and Sound Design: Șerban Ursachi
Light Design: Cristian Șimon
Translated by: Dan Stoica
Duration: 1h 10mins | In Romanian with English subtitles | Not recommended for viewers under the age of 12
Photo credit: Oana Monica Nae
When: The show will be broadcasted online on 27 January 2021, 7PM and will be available for 48 hours
Where: RCI London's Facebook page, YouTube channel and website
Free.