Holocaust Memorial Day 2021: Book launch "With an Unopened Umbrella in the Pouring Rain" by Ludovic Bruckstein
27/01/2021 @ online | Website, Facebook page and YouTube channel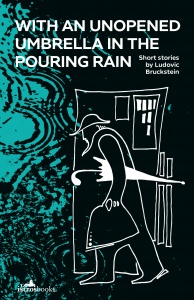 Leading independent Istros Books will publish Ludovic Bruckstein's second short stories collection, "With an Unopened Umbrella in the Pouring Rain", translated into English by Alistair Ian Blythe. Surviving the Holocaust and escaping communist Romania, Ludovic Bruckstein is rediscovered by a generation of readers sensitive to cautionary tales and gripped by the multitude of fascinating characters he created evoking the kaleidoscopic universe of interwar Romania.
To mark the launch of this book, published on Holocaust Memorial Day - 27 January 2021, the Romanian Cultural Institute is hosting a discussion between Susan D. Curtis (Founding Director & Editor Istros Books) and Alfred Bruckstein, the author's son.
Erased from the national literature when he moved to Israel, Romanian writer Ludovic Bruckstein's work has remained undiscovered for many years. His writing is centered on the multicultural Carpathian region during the years proceeding, and including, World War II.
The stories in this collection are stories of the lives and struggles of a wonderful variety of characters living in the Maramureș region (northern Romania), in the years leading up to a war that will suddenly and irretrievably destroy the pattern of their existence. The eerily shocking ending of many of these stories is the moment their protagonists climb on the cattle trains to be transported to Auschwitz; while leaving the tale of their often tragic fate unstated. (Istros Books)
Click here for Ludovic Bruckstein's biography.
Both books, "With an Unopened Umbrella in the Pouring Rain" and "The Trap", can be purchased from the publisher's website.
Istros Books was set up in 2011 in order to publish and promote literature in translation from SE Europe and the Balkans. In its short history, it has managed to prove itself at the forefront of discovering and promoting exciting new works, ranging from essays on the state of the EU by Slavoj Žižek, to six winners of the EU Prize for Literature.
When: 27 January 2021, 3PM
Where: RCI London's Facebook page, YouTube channel and website
Free.