Hitchcock Revisited
06 - 17/08/2015 @ New Town Theatre (Venue 7), Freemasons' Hall, Edinburgh EH2 3DH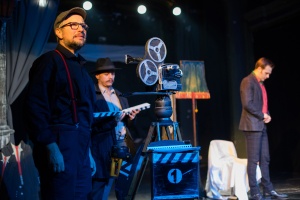 An alert, suspenseful crossover between theatre and film, the Romanian version of '39 Steps', Hitchcock's espionage thriller and one of West End's most enduring successes, will be presented at the Edinburgh Fringe by the famed Teatrul Foarte Mic of Bucharest as part of the Romanian artistic contingent showcasing in Britain's summer cultural capital.
Written by Patrick Barlow
Directed by Gabriela Dumitru
With:
Ştefan Lupu
Andreea Grămoşteanu
Viorel Cojanu
Claudia Prec
Bogdan Talaşman
Scenography by Vladimir Turturică
Music by Andrei Petre-Tatu
Choregraphy by Ştefan Lupu
Photos by Costin Rusu
...Trains, planes, car chasing... all in front of your eyes in a suspense thriller and a burlesque comedy about the world behind the movie screen... just 39 steps to get there... After a novel by John Buchan and the film of Alfred Hitchcock's 39 Steps, an original concept of Simon Corble and Nobby Dimon, recreated on stage by Patrick Barlow. An inventive and gripping comedy features actors playing 65 roles in 75 minutes.
When: 6-17 August, 7.20pm
Where: New Town Theatre (Venue 7) , Freemasons' Hall, Edinburgh EH2 3DH
Tickets: £12 - general admission; £6 - child, senior and student concessions. Book HERE.