Heritage and Innovation: Romania at the London Festival of Architecture
07 - 28/06/2013 @ Romanian Cultural Institute & Royal Ear Hospital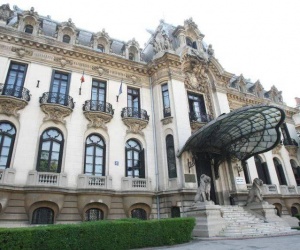 Our fourth participation at the London Festival of Architecture (LFA), a citywide celebration of international built environment from over 40 countries, brings together the extraordinary creators of 120 years of Romanian architectural heritage and the heralds of contemporary cutting-edge practice and innovation.
Along with the Romanian Union of Architects (UAR), we present the exhibition "Romanian Creators of Architectural Heritage", showcasing the most significant works of architecture built in Romania between 1869 and 1989, through documentary photography and text. The exhibition will open on 10 June at the "Brâncuşi" Gallery of the Institute, in the presence of curators Cristina Olga Gociman and UAR's President Viorica Curea.
The survey exhibition will highlight the achievements of prominent figures such as Ion Mincu - the creator of the Neo-Romanian architectural style, I.D. Berindei – the promoter of Art Nouveau and Romantic urban palaces, Horia Creangă and Marcel Iancu – the leaders of Modernist architecture, G. M. Cantacuzino – the author of the elegant inter-war villas Bellona and Aviana on the Romanian coast, and many others whose creativity shaped the multi-layered identity of the Romanian built environment in recent history.
The exhibition opened at the National Biennale of Architecture in Bucharest in 2012 to mark the anniversary of 120 years of professional organization and architectural education in Romania.
The other feature of our programme is the participation in British Council's international exhibition "Atlas of the Unbuilt World" at the Bartlett School of Architecture, Royal Ear Hospital, featuring over 50 architectural models by emerging studios from nearly every continent, encompassing projects that will be constructed over the coming months or years. The exhibition opens on 7 June and runs throughout the month.
ADN studio in Bucharest will present the award-winning project of spatial remodeling of the National University of Arts in the capital, a landmark building from 1864 located in the centre of the city, which will be modernized, whilst preserving its existing architectural features and relationship with the surroundings. The project enhances the historical core of the edifice, along with offering new and unexpected views within an urban tissue of great complexity.
ADN members are Andrei Şerbescu, Adrian Untaru and Bogdan Brădăţeanu. They design residential, public and commercial buildings, urban plans and projects for agricultural, industrial and historical areas, and have participated in numerous national and international competitions.
When & Where: 7 – 26 June; Exhibition openings: Monday 10 June, 18.30, 1 Belgrave Square, SW1X 8PH & 7 June, 18.00, Royal Ear Hospital, corner of Huntley Street and Capper Street, W1CE 6JA.