Hailing the Female Gaze: A Focus on Women Directors at the Romanian Cinematheque
17/03 - 23/04/2019 @ Romanian Cultural Institute London, 1 Belgrave Square, SW1X 8PH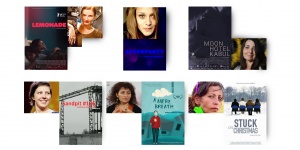 This spring, the Romanian Cinematheque continues with a season of screenings that celebrate female creativity. Six original women directors - Anca Damian, Monica Lăzurean-Gorgan, Ivana Mladenovic, Adina Pintilie, Iulia Rugină and Ioana Uricaru- and their applauded films make up a diverse programme to suit all tastes: from gripping intrigues and tales of unexpected encounters to bitter immigration dramas.
All films have English subtitles.
Programme:
Sunday 17 March 2019, 19.00- UK Premiere
Lemonade/Luna de miere by Ioana Uricaru + Afterparty by Ivana Mladenovic
Ioana Uricaru is a director, screenwriter, and Assistant Professor of Film and Media Culture at Middlebury College in the USA. She was born in Cluj, Romania, and earned her MSci in biochemistry from the University of Bucharest before she decided to become a filmmaker. In 2001 Ioana Uricaru relocated to Los Angeles to study at the University of Southern California's School of Cinematic Arts, where she received her MFA in Film and Television Production and PhD in Critical Studies. Her scholarship on contemporary Romanian cinema has been published in The Velvet Light Trap, Film Quarterly, The Blackwell Companionto Eastern European Cinemas (edited by AnikoImre), and New Romanian Cinema (edited by Christina Stojanova and Dana Duma). Ioana Uricaru's films have been included in the official selections at, among others, Cannes (2009), Sundance (2011), and the American Film Institute (2007). She co-directed the omnibus Tales from the Golden Age (Mobra Films, 2009), distributed commercially in over 30 countries.
Lemonade, her first feature project as a writer/director, which she calls a European take on the American Dream, was supported by the Cinefondation Residency of the Cannes Film Festival and the Sundance Directors' lab program. The English& Romanian-language film tells the story of Mara, a single mother from Romania, who, while on a temporary work visa in the U.S., marries an American man she met just a few months earlier. Things don't go as planned with her green card application and Mara is faced with abuses of power and excruciating decisions about what she's willing to do to obtain legal status.The film was nominated for Best Narrative Feature at the Tribeca Film Festival and won the Heart of Sarajevo Prize for Best Director at the Sarajevo Film Festival and Best Film at International Women Film Festival of Sale, Morocco 2018. The film had its world premiere in the Panorama section of the Berlinale in 2018.
Lemonade/Luna de miere (2018)
Director: Ioana Uricaru
Screenplay: Ioana Uricaru, Tatiana Ionașcu
Writers: Tatiana Ionascu, Ioana Uricaru
Cast: Malina Manovici, Dylan Smith, Steve Bacic, Milan Hurduc, Ruxandra Maniu, Víctor Gómez, Meghan Allen, Lisa Bronwyn Moore, Nastassia Markiewicz
Producer:Cristian Mungiu
Running time: 88 min
Preceded by: Afterparty directed by Ivana Mladenovic
Ivana Mladenovic was born in Serbia. After studying Law in Belgrade, she moved to Bucharest, where she graduated in Film Directing at the National School of Film and Theatre (UNATC) in 2010. In 2011 she finished her MA studies in Film Directing at the same university. Her short student films were shown at various film festivals around the world. She started working on her first feature documentary, Turn Off the Lights, in 2009. It premiered at the Tribeca Film Festival in April 2012 and later won the Heart of Sarajevo Award for Best Documentary and the GopoAward for Best Romanian Documentary. Ivana Mladenovic appeared as an actress in Radu Jude's acclaimed feature film Scarred Hearts(2016).
Her short film Afterparty takes place on an eventful Saturday night, when protagonist Ioana wakes up after a car accident on the back seat of two strangers. The ride to the hospital with Dan and Paul is long and brings up some unexpected truths.
Afterparty (2009)
Director: Ivana Mladenovic
Writers: Raluca Manescu, Jiri Olteanu
Cast: Cristina Casian, Tudor Istodor, Andrei Runcanu
Running time: 16 min
Free entry. Please confirm your attendance HERE.
* * * * * * * * * * * * * * * * * * * * * * * * * * * *
Wednesday 27 March 2019, 19.00- UK Premiere
Moon Hotel Kabul by Anca Damian + Sandpit #186 directed by Adina Pintilie
Anca Damian studied at the Academy of Theatre and Film Arts in Bucharest where she majored in cinematography and later obtained a PHD degree in Film. Her first feature film as a director- Crossing dates (2008)- participated in numerous film festival competitions such as Pusan Film Festival, Chicago, Goteborg, Cottbus, Goa and Rome. Her second feature as a director, screenwriter and producer Crulic - The Path to Beyond(2011) gained more than 150 festival selections. The film also received the Cristal Award in Annecy and more than 35 prizes at other notable film festivals. Her feature A Very Unsettled Summer/O vară foarte instabilă (2013), a Romanian-Czech-Swedish-UK co-production, received three prizes from at the Romanian Filmmakers' Union Awards and was screened in Warsaw, Goteborg, Prague and London.
Moon Hotel Kabul follows journalist Ivan Semciuc, a charismatic man who is nonetheless guilty of cynicism and lack of compassion. A seemingly meaningless encounter with a translator in a hotel room in Kabul produces a vital revolution in Ivan's unshakeable lifestyle.
Moon Hotel Kabul (2018)
Director: Anca Damian
Writers: Lia Bugnar, Anca Damian
Cast: Florin Piersic Jr., Ofelia Popii, Adrian Titieni, Rodica Negrea, Iulian Postelnicu, Alexandru Nagy
Running time: 100 min
Preceded by: Sandpit#186/ Balastiera#186 directed by Adina Pintilie
Adina Pintilie is a graduate from the Caragiale Academy of Theatrical Art and Cinematography in Bucharest. Her documentary Don't get me wrong… participated in the Warsaw International Film Festival and Locarno International Film Festival, winning the Golden Dove Award for Best Documentary at DOK Leipzig Festival. Her debut feature film, Touch Me Not, screened at the 2018 Berlin International Film Festival, where it was awarded the Golden Bear.
Sandpit #186 is set on the outskirts of an industrial city, where a lonely man lives an uneventful life. One day, a stranger appears and apparently nothing changes but at the same time, nothing is the same. The film won the Runner Up Award of the Grand Jury Prize at the 2009 Miami Film Festival and the Special Mention at the Trieste Film Festival.
Sandpit #186 (2009)
Director&Writer: Adina Pintilie, George Chiper
Cast:Richard Bovnoczki, Gabriel Spahiu
Running time: 20 min
Free entry. Please confirm your attendance HERE.
* * * * * * * * * * * * * * * * * * * * * * * * * * * *
Tuesday 23 April 2019, 19.00 - UK Premiere
A Mere Breath/ Doar o răsuflare by Monica Lăzurean-Gorgan + Stuck on Christmas / Captivi de Crăciun directed by Iulia Rugină
Monica Lăzurean-Gorgan is a producer, director and co-founder of the '4 Proof Film' production company in Bucharest. Her production The Cage (directed by Adrian Sitaru) won the DAAD Short Film Award at the Berlin International Film Festival. Her work with director Adrian Sitaru continued with the feature length productions Best Intentions and Domestic. My vote, a documentary directed and produced by Monica Lăzurean-Gorgan, was awarded at the Sarajevo International Film Festival and was included in the selections for the Rotterdam International Film Festiaval and the Documenta Madrid.
Her film A Mere Breath explores the deeply contradictory nature of love in the family life. Dobrin is waiting to happen a miracle for Denisa, his young daughter, to get up from the wheelchair and walk. It won the Best Romanian Documentary at the Astra Film Festival Sibiu in 2016.
A Mere Breath / Doar o răsuflare (2016)
Director: Monica Lăzurean-Gorgan
Writer: Monica Lăzurean-Gorgan
Cast:DenisaSicrea, Dobrin Sicrea, Lia Sicrea
Running time:67 min
Preceded by: Stuck on Christmas/Captivi de Crăciun directed by Iulia Rugină
Iulia Rugină studied Film and Television Directing at the Caragiale Academy of Theatrical Arts and Cinematography in Bucharest between 2002 and 2006. In 2011 she completed a Master of Arts in Directing from the same institution. To this day, she directed eight short films and three medium-length features, for the majority of which she served also as a co-writer. Her directorial works have been screened at over fifty cinematography events in thirteen countries. As a trainer for children, film beginners and enthusiasts, she is also involved in the educational aspect of filmmaking, through projects such as Education a l'Image, S.P.E.R, Kinodiseea, and coordinating LET'S GO DIGITAL - a film workshop for pupils. 2017 marked the premiere of her latest feature-length film, Breaking News.
Stuck on Christmas is set on Christmas Eve in a small mountain train station where four people are waiting for a train that doesn't show up because all the tracks are blocked with snow. They don't know each other, how long it's going to take or if they will ever reach their destinations. But as the hours pass, Madalina, Cristi, Ozana and Alex share the absurd, the despair and the hope. Because no one knows when it will end. And because it's Christmas.
Stuck on Christmas/Captivi de Crăciun (2010)
Director: Iulia Rugină
Writer: Ana Agopian, Oana Răsuceanu, Iulia Rugină
Cast:MădălinaGhiţescu, OzanaOancea, Bogdan Dumitrache, Cristian Popa
Running time: 40 min
Free entry. Please confirm your attendance HERE.