Great Thespian Oana Pellea in Jean Cocteau's "The Human Voice"
08/12/2013 @ The Cockpit, Gateforth Street, Marylebone, London NW8 8EH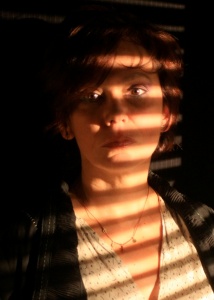 The Romanian Cultural Institute in London ends this year's hugely successful series "Tales Told in Romanian" with another exquisite production: Oana Pellea in the touching one-woman show "The Human Voice", directed by legendary director and professor Sanda Manu, in a collaboration renewed after 26 years.
In one of the show's reviews, Dan Boicea writes: "The play is a study on the transformation of an actor on stage, about his or her passing through all possible emotional stages. It is the X-ray of a woman's heart and the perfection of an actress."
"The Human Voice"
by Jean Cocteau
Starring: Oana Pellea
Directed by: Sanda Manu
Set design: Iuliana Vâlsan
A lonely woman onstage and a phone that rings. On the end of the line, her former lover about to marry someone else. All hopes rest on the chance of a final conversation. The simple gesture of picking up opens the gateway to all the hopes and shared memories, all the regrets and fears encompassed in this acutely accurate exploration of heartbreak.
For this role, Oana Pellea was nominated by the Romanian Association of Theatre Artists for Best Actress Award in 2011.
Oana Pellea, "clown, tempest, eccentric and elaborate" as Sanda Manu described her, is an internationally acclaimed actress. Her extensive body of work in film and theatre includes iconic interpretations in Alfonso Cuaron's "Children of Men" alongside Clive Owen, Oliver Parker's "I Really Hate My Job", Jean-Christophe Comar's "Fire and Ice", Stere Gulea's "State of Fact". She played Masha in Chekov's "Three Sisters", Lucius in Shakespeare's "Julius Caesar" and Catarina in Mihai Măniuţiu's production of Shakespeare's "The Taming of the Shrew".
In London, she most recently performed in Matei Vişniec's "Buzunarul cu pâine" (Pockets Full of Bread) at Riverside Studios.
She has received numerous awards, most notably, twice, the Romanian Association of Theatre Artists (UNITER) Best Actress Award, the Romanian Academy "Aristizza Romanescu" Prize for her career in theatre and film, and The Cross of the Royal House of Romania Medal from King Mihai I.
"The Human Voice" is part of the "Tales Told in Romanian" series offering Romanian and British audiences the best of Romanian theatre, actors and performances, inspired by classical and contemporary literature and drama, both native and universal. The project is an initiative of Claudia Cîrlig and is developed in partnership with ICR London.
In Romanian with English surtitles. English surtitles by Anthony Wood, with kind permission from Eric Glass Ltd.
When: Sunday, 8 December 2013, 8 pm
Where: The Cockpit, Gateforth Street, Marylebone, London NW8 8EH, T: 020 7258 2925
Tickets: £17 Book your tickets HERE
Duration: 50 min (no interval)
Love Romanian Theatre? Like Tales Told in Romanian!