The Film of A Generation: Boogie @ Romanian Cinematheque
27/10/2011 @ 1 Belgrave Square, SW1X 8PH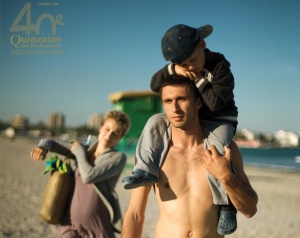 Do not miss Radu Muntean's Boogie, one of the best films of the young generation of Romanian directors! Boogie is a film about people in their 30's who try to reconcile marriage and partying, freedom and responsibilities, teenage and adulthood.
The screening will be followed by a Q&A session with acclaimed actress Anamaria Marinca and film journalist Edward Lawrenson
On his spring break at the seaside, with his wife and his four year old son, Bogdan runs into his best friends from high-school at the precise date and time that reminds all of them of their most glorious drinking trips and sexual escapades of their younger days. Frustrated that, between his job and his family, time is no longer his to manage and play with, Boogie now takes his shock dosage of freedom.
Feature film / Romania / 2008 / colour / 103 min / Romanian with English subtitles.
Cast: Dragos Bucur, Anamaria Marinca, Mimi Branescu, Adrian Vancica, Vlad Muntean, Roxana Iancu, Geanina Varga.
Directed by Radu Muntean. Screenplay by Radu Muntean, Alexandru Baciu, Razvan Radulescu.
Boogie is not only a multi-awarded film, but also a film dear to a whole Romanian generation of film fans. The movie was awarded in 2008 Special Mention at Palic Film Festival and The Best Screenplay prize at Hamptons International Film Festival.
Romanian Cinematheque is a partnership with the National Centre for Cinematography in Romania (CNC)
When: Thu 27 October 2011, 7pm;
Where: Romanian Cultural Institute London.
Free entrance. To attend please email office@icr-london.co.uk or call 0207 752 0134. Early booking recommended.