Gigi Căciuleanu's 'One Minute of Dance' Premiers at Sadler's Wells
23/10/2016 @ Lilian Baylis Studio, Sadler's Wells, Rosebery Avenue, London, EC1R 4TN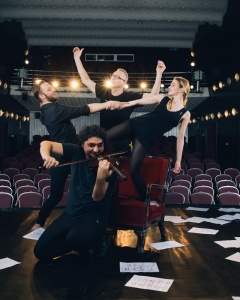 Gigi Căciuleanu, Romania's most acclaimed choreographer, returns to London with another brilliant show, which marvellously documents the maddening process by which a "humble" minute of dance is produced. Different every time, the performance is created and re-created on the spot, taken by the flux of momentary inspiration. The great choreographer himself is joined by dancers Ana Vişan and Răzvan Stoian together with musician Paul Ilea in a show as unexpected as everybody's next minute in life.
"The entire show is designed around the complicated and often 'crazy' creative process needed to create one minute of dance. It may be regarded as an improvisation from the very beginning to the very end, an eternal re-creation." – Gigi Căciuleanu
'One Minute of Dance' / 'Un minut de dans sau uf!' (original title)
A performance by Gigi Căciuleanu
With: Gigi Căciuleanu, Irina Ştefan and Răzvan Stoian
Live music: Paul Ilea
Assistant Choreographer: Lelia Marcu Vladu
Gigi Căciuleanu's early career was shaped in Bucharest and with Moscow's Bolshoi Theatre, after which it was profoundly influenced by the great dancer Miriam Răducanu's avant-garde creations. Until 1973, Căciuleanu danced for the Romanian National Opera in Bucharest. In 1973 he was employed by famous Pina Bausch who was then the Artistic Director of the Folkwang Ballet in Essen. Immediately after, he became a Professor at the International Dance Centre Rosela Haightower in Cannes. In 1974, Căciuleanu was appointed Ballet Director at the Grand Théâtre de Nancy. Between 1978 and 1993, together with his main artistic collaborator, actor and director Dan Mastacan, he ran the National Choreographic Centre in Rennes. In 1993 he set up his own dance company in Paris. Between 2001 and 2013, Căciuleanu was the Artistic Director of Santiago de Chile's National Dance Company. In 2007, under the aegis of Art Production Foundation, the artist established, in Bucharest, the famous Gigi Căciuleanu Romania Dance Company, with which he started touring all over the world. Gigi Căciuleanu is the recipient of many illustrious international and national prizes and decorations.
When: Sun 23 October, 7:00 pm
Where: Lilian Baylis Studio at Sadler's Wells, Rosebery Avenue, London, EC1R 4TN
Tickets: £15, £10 concessions. You can book your ticket HERE