Gheorghe Fikl: The End of History
28/05/2019 @ Romanian Cultural Institute, 1 Belgrave Square, SW1X8PH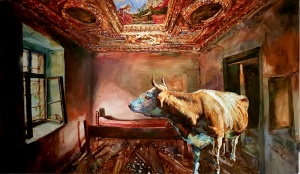 Gheorghe Fikl, one of Romania's most original and thought-provoking contemporary artists, opens his first UK solo show at 1 Belgrave Square. The exhibition brings together a selection of large-scale, oil-on-canvas works from three of his recent series, developed during 2015 – 2019: El Angel Exterminador, End of History and Ceilings, paired with two works that will be shown publicly for the first time on this occasion. The show also includes the screening of Horse, a short film made by French artist Josepha Blanchet.
The programme is curated by Gabriela Massaci, director of AnnArt Gallery and is accompanied by a critical essay signed by Professor Ileana Pintilie.
Gheorghe Fikl is one of the most impressive contemporary artists in post-Communist Romania, with a well-regarded track-record by art critics and collectors alike. He studied Fine Arts in Cluj and in his home-town Timisoara. His graduation project, a mixed-media conceptual piece, a far-cry from his current explorations in figurative baroque, is on permanent display at the Faculty. A student of Professor Romul Nuţiu, Gheorghe Fikl started off with experiments in mixed-media and installation, enjoying the Dadaist-type of random asssocation of found objects, painting inteventions, photography and video. This gradually led him to produce striking, unexpected composition, which de-stabilizes the viewer by the powerful contrast of the associated elements – by now the unmistakable Fikl trademark. An exemplary-skilled painter, Fikl composes a highly theatrical universe, with aristocratic marble floors and decrepit peasant-house walls. Animals take centre-stage, while the human person is conspicuously absent. Striking and mysterious, the forceful and gentle animals painted by Fikl - bulls, peacocks, dogs, sheep or butterflies – are the strange inhabitants of these surrealist spaces, in a disquieting mood of ludic hedonism and underlying violence and despair. In subtle and melancholy irony, they actually offer the viewer just as many contexts for reflection on the underlying tension of our human condition, on the displacement and loss of our lived experience, in historical and personal time. Following painting and photography exhibitions in Timişoara, Bucharest as well as Luxemburg, Lisbon or New York, Fikl's works have become part of important private collections in Romania, the United States, Portugal, Great Britain, France, Andorra, Luxembourg and Germany – including those of the Prince of Wales Transylvanian collection, The Bonte Foundation and the Maria Nobrega Foundation. He lives and works in Socolari/Timisoara, Romania.
"Although they are painted beautifully, Francis Bacon would have been proud, these paintings serve a purpose that is ultimately beyond the one concerning visual consumption. They unflinchingly emphasize the excess of humanity, our almost absurd disjuncture with the animal kingdom. Fikl's work is, in the end, a call to assess and perhaps reject the desire for wealth and empire, despite the sublime beauty they underline." - Chen Tamir
When: Opening and drinks reception 28 May 2019, 7-9pm. The exhibition continues until 12 June 2019, Monday to Friday between 10am – 5pm.
Where: Romanian Cultural Institute, 1 Belgrave Square, SW1X 8PH
Free entry. Please confirm your attendance on EVENTBRITE.