George Tomaziu: The Artist Who Came in From the Cold
26/11/2015 @ Romanian Cultural Institute London, 1 Belgrave Square, SW1X 8PH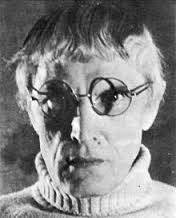 George Tomaziu, a painter by vocation and spy by necessity, could have descended directly from the pages of a Graham Green or John le Carré novel. He joined the MI6 during the first years of the WWII in order to fight the Nazis who had occupied much of Europe. He later fought the Soviet Union which was about to enslave his in the Eastern Block and paid with more than a decade in the fearsome Stalinist prisons. He escaped Communist Romania and dedicated his remaining years of his life to paining and writing, leading a quit and discreet life in France. "The Witness", his stunning memoir, has been translated into English and will be launched at the Romanian Cultural Institute in the presence of Jane Reid, the artist's friend and translator, the author's son Georges Tomazi and celebrated writer Alan Judd.
"My witness is important – and proves that I have not wasted my life". - George Tomaziu
"The Witness: Memoir of an Artist and Spy for MI6 during World War Two" is George Tomaziu's gripping and vivid account of his adventures during the Nazi years and of the growing horrors of the post-war period when Romania fell into the grip of Soviet communism and the writer himself was imprisoned for his wartime activities. The book was initially written in French under the title "Figurant d'Epoque" but it was never published until its English translation signed by Jane Reid came out this year, at Theed Street Publishing.
George Tomaziu (1915-1990) was a Romanian painter, illustrator, poet and memoirist, graduate of the Academy of Fine Arts in Bucharest. He operated as an MI6 agent for the British in Romania and Ukraine during World War II and in consequence spent many years as a political prisoner under the communist regime. In 1969, with the help of Martin and Jane Reid, and pressure from the British Embassy in Bucharest, Ceauşescu's government allowed him and his family to leave Romania and settle in Paris.
Jane Reid read English at Oxford and spent many years travelling the world as the wife of a member of the Diplomatic Service – France, Myanmar, Guyana, Romania, Malawi, South Africa and Jamaica. During home postings he taught in London comprehensive schools and she had appointments as a lecturer at the universities of Malawi and Cape Town. where she did a Master's degree. For twenty years after her husband's retirement she administered charities in the the fields of education and the arts. She lives in central London.
Alan Judd is a prize-winning novelist and biographer who previously served in the British Foreign Office. Two of his novels have been filmed by the BBC and a third, "The Kaiser's Last Kiss", is currently being produced as a feature film starring Christopher Plummer. He also contributes reviews and articles to a number of leading newspapers and magazines.
Georges Tomazi is a Senior Projects Coordinator at Agence France-Presse. Spanning a career of more than 25 years, he has acquired a broad range of experience in IT and operations management and also took a significant part in the development of a successful European start-up company. Georges has lived in Australia, South Africa, French Polynesia and, currently , Paris. Georges was born in 1965 and is the only child of George and Fraga Tomaziu.
When: 26 November 2015, 7pm
Where: Romanian Cultural Institute London, 1 Belgrave Square, SW1X 8PH
Free entry but please reserve your seat on Eventbrite.