George Todică in Recital at St Martin-in-the-Fields
01/05/2017 @ St Martin-in-the-Fields, Trafalgar Square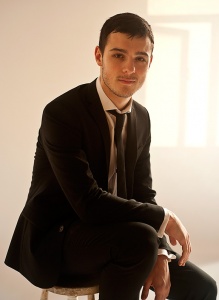 Pianist George Todică, a young performer of impressive ability, debuts in the Romanian series at St Martin-in-the-Fields with a programme full of youthful bravado. The recital features works by Scarlatti, Chopin, Rachmaninov and Enescu.
George Todică started playing the piano at the age of six. He is the recipient of the first prize at the international 'Marco Fortini' and the 'Citta di Cesenatico' competitions. He played with an orchestra for the first time at the age of 14, debuting with 'Haydn's D Major Concerto'. George has performed in Italy, Austria, Croatia, the UK, and the USA. He is currently completing a Master of Music program at the Royal Conservatoire of Scotland where he graduated with a First-Class Honours Degree. His Master's degree is currently supported by a scholarship from the RCS, a scholarship from The Tillet and Colin Keer Trusts, and a 'Britton Award' for post-graduate study from Help Musicians UK.
Program:
D. Scarlatti - Sonatas in B minor K 197 & K 27
Fr. Chopin - Andante Spianato & Grande Polonaise Brillante
G. Enescu - Carillon Nocturne op. 18
S. Rachmaninov - Piano Sonata no. 2 in B flat minor, "revised edition"
When: Monday, 1 May, 1pm
Where: St Martin-in-the-Fields, Trafalgar Square, London
This lunchtime concert is free and no ticket is required.