George Enescu - A Stellar Moment in Romanian Culture. Celebrating 140 Years since His Birth with an Extraordinary Recital Featuring ConTempo String Quartet & Guests
19/08 - 31/10/2021 @ online | Website, Facebook page and YouTube channel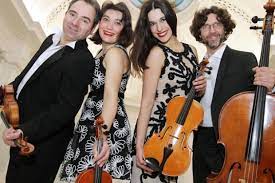 Highly appraised in Europe and throughout the world as a violin virtuoso, a conductor of depth and subtlety and an outstanding composer, George Enescu (19 August 1881 - 4 May 1955) occupies a firmly established place in the Romanian pantheon. Celebrating 140 years since George Enescu's birth, RCI London is inviting its online audiences to a concert featuring the prestigious ConTempo String Quartet, together with their special guests: pianist Aillen Cahill, pan flute player Iulian Pușca and visual artist Mihai Cucu. This fascinating and eclectic repertoire was conceived by the ConTempo Quartet in 2019, in Dublin, as part of the programme to mark the Romanian Presidency of the Council of the European Union. The recording of these songs will be broadcast for the first time online by RCI London (on our Facebook page, YouTube channel and website) and will be available until 31 December 2021.
Programme:
George Enescu - Koncertstück for viola and piano
Constantin Dimitrescu - Peasant Dance / Dans ţărănesc
George Enescu – Romanian Rhapsody No 1 (Modéré)
Grigoraș Dinicu - Hora Staccato
Constantin Arvinte - Romanian Suite for pan flute / Mică suită românească la nai
Béla Bartók - Romanian Folk Dances / Dansuri populare românești

The ConTempo Quartet - Bogdan Sofei (violin), Ingrid Nicola (violin), Andreea Banciu (viola) and Adrian Mantu (cello) - is the resident quartet of the Galway Music Residency and was RTÉ's Resident Quartet from 2014 until 2019.
Praised as a "fabulous foursome" (Irish Independent) and noted for performances which are "exceptional" (The Strad) and "full of imaginative daring" (The Irish Times), RTÉ ConTempo Quartet has forged a unique place in Irish musical life. In 2003, following a three-year fellowship at the Royal Academy of Music in London, ConTempo Quartet was chosen as Galway Music Residency's Ensemble in Residence and continues to captivate audiences throughout the city and county with its repertoire of classical, contemporary, folk and traditional music.
Since its formation in Bucharest in 1995, the quartet has performed more than 1,800 concerts world-wide in 46 countries, including prestigious venues such as Wigmore Hall; Théâtre du Châtelet, Paris; St Martin-in-the-Fields; Berliner Philharmonie; Palazzo del Quirinale, Rome; Carnegie Hall and the Opera House Tel-Aviv. ConTempo have had the honour to meet and play in front of world personalities such as Prince Charles, Nelson Mandela, Pope John Paul II, EU Ministers, Michael D. Higgins, Hollywood stars and Nobel Prize winners. The ensemble has won a record of 14 international prizes (including Munich, Rome, Berlin, Prague and London) and worked alongside artists of the highest calibre including Emma Johnson, Yuko Inoue, Hugh Tinney, Chen Zimbalista, Jérôme Pernoo, Peter Donohue and Martin Roscoe. Collaborations with other distinguished quartets have also been a feature, such as the Amadeus, Arditti, Vanbrugh, Casals and Endellion.
Aileen Cahill graduated from the Royal Irish Academy of Music with Masters in Solo Piano under Dr. John O'Conor in 2007. She has won several prestigious music competitions in Ireland and also took part in Royal Irish Academy and Conservatory of Music and Drama D.I.T. music festivals. Aileen is currently a lecturer in Piano at the Conservatory of Music and Drama, D.I.T, and a repetiteur and tutor at Maynooth University.
Iulian Pușca graduated from the Academy of Music, Theatre and Fine Arts in Chișinău, Republic of Moldova. He then studied pan flute with Ciarán O'Connell (flutist) and Keith Pascoe (violinist) and obtained a Master's Degree at the DIT Conservatoire of Music and Drama (Dublin, Ireland). He later participated in master classes with James Galway. Iulian is an active performer and pursues an international performance career. His extensive repertoire includes a wide range of genres including Renaissance, Baroque, Classical, Romantic, Contemporary as well as Jazz, Romanian and Moldovan folklore music.
When: 19 August 2021, 19.00
Where: RCI London's online channels: Facebook page, YouTube channel & website