Gellu Naum: The Incendiary Wanderer
29/10/2015 @ Romanian Cultural Institute, 1 Belgrave Square, SW1X8PH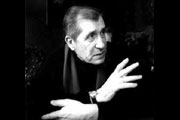 Renowned author and critic Simona Popescu, one of the great poet's closest confidants, discusses Naum's fascinating persona and enduring literary appeal in the company of poet, translator and cultural animator Stephen Watts.
Actress Andreea Păduraru will crown the evening with excerpts from the best works of 'the last Surrealist'.
Part of the Gellu Naum Centenary at RCI London. Accompanied by an exhibition dedicated to the life and work of Gellu Naum, organised in collaboration with Gellu Naum Foundation, founded by Lyggia Naum.
Gellu Naum (1915-2001) was an award-winning and prolific Romanian poet, dramatist, novelist and translator. Considered one of the greatest Romanian writers of the 20th century. He was a prominent member of the European interwar avant-garde movement and a friend of Breton and other members of the surrealist group. Naum is best known for his poetry, being remembered as the founder of the Romanian surrealist group, but also for his prose and theatre, the novel 'Zenobia' being one of his most appreciated works worldwide. He translated works by Diderot, Stendhal, Hugo, Dumas, Jules Verne, Kafka, Beckett. His own works have been translated across several languages, which include in English three collections of poems 'Athanor and Other Poems', 'Vasco da Gama and Other Poems' and 'My tired father', and the novel 'Zenobia'.
Simona Popescu graduated from the Faculty of Letters at University of Bucharest in 1987, where she currently teaches Romanian Literature. She has published three volumes of poetry, 'Xilofonul şi alte poeme' ('The Xylophone and Other Poems', 1990), 'Juventus' (1994), 'Noapte sau zi' ('Night or Day', 1998), and is co-author of 'Pauza de respiraţie' ('Breathing Space', 1991), considered one of the best poetry books of the '90s. Simona Popescu is one of Romania's foremost experts on Gellu Naum, and serves as a board member of Gellu Naum Foundation. Her published essays include 'Despre suprarealism și Gellu Naum' ('On Surrealism and Gellu Naum', 2000) and 'Clava. Critificțiune cu Gellu Naum' ('Clava. Critifiction with Gellu Naum', 2004). Her novel 'Exuvii' ('Exuviae', 1997) has become a literary classic and has been translated into several languages.
Stephen Watts was born in London in 1952. He is a poet, editor and translator with cultural roots in the Swiss Italian Alps and Scotland fact that deepened his interest in dialogue between cultures. His own most recent books include 'Gramsci & Caruso' (Periplum 2003), 'The Blue Bag' (Aark Arts 2004) and 'Mountain Language/Lingua di montagna' (Hearing Eye 2008). Together with Claudiu Komartin, Stephen translated Gellu Naum and other poets for the special Romanian issue of the prestigious Modern Poetry in Translation, published in 2013.
Andreea Păduraru is an actress and director with a notable career both in Romania and Britain. A graduate of Bucharest Theatre and Film Academy and London's Drama Center-University of the Arts, she has been active in film industry, television, stage, radio, and physical theatre. In 2008 Andreea won the Best Actress Award at the Black and White Festival in Imatra, Finland. As a film actress, she is best known for 'Bunraku' (2010), 'Sand Serpents' (2009), 'Vine poliția!' (2008), 'Cu un pas înainte' (2007) and 'True True Lie' (2006). In 2011 Andreea was highly praised for her depiction of 'the Female Creature' in Danny Boyle's raving 'Frankenstein' at the National Theatre in London.
Where: Romanian Cultural Institute, 1 Belgrave Square, London SW1X 8PH
When: Thu 29 Oct 2015, 7 pm (doors open at 6.30 pm)
Free entry, but please reserve your seat on EVENTBRITE